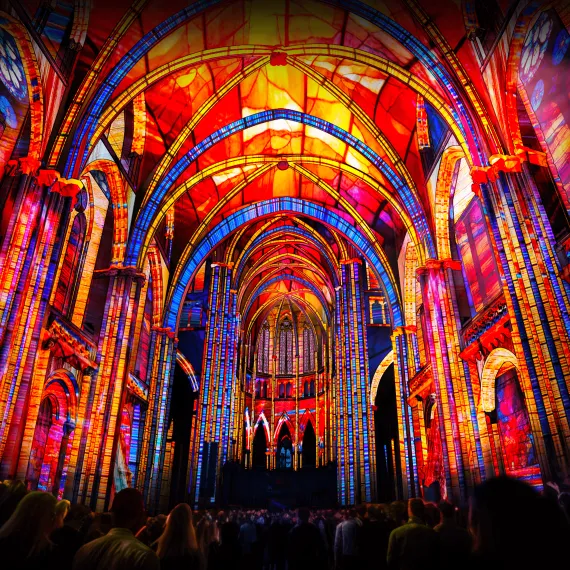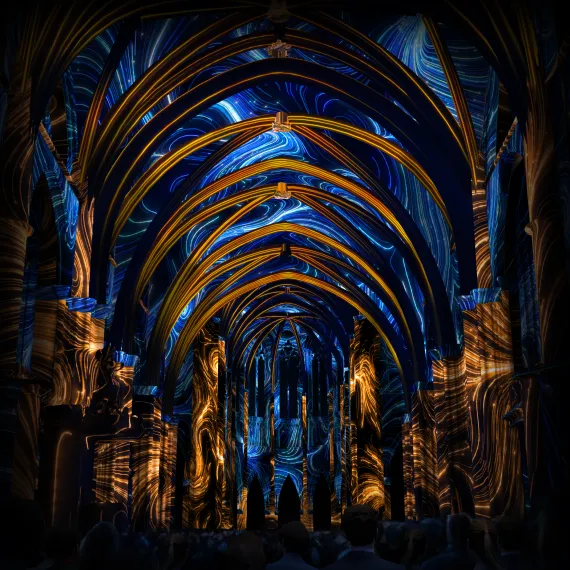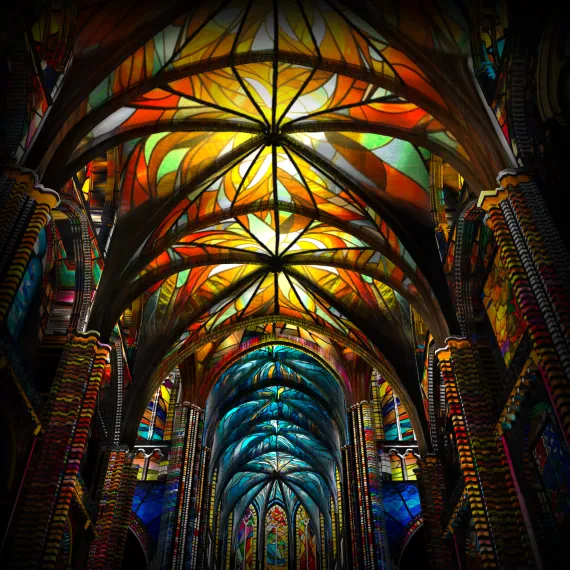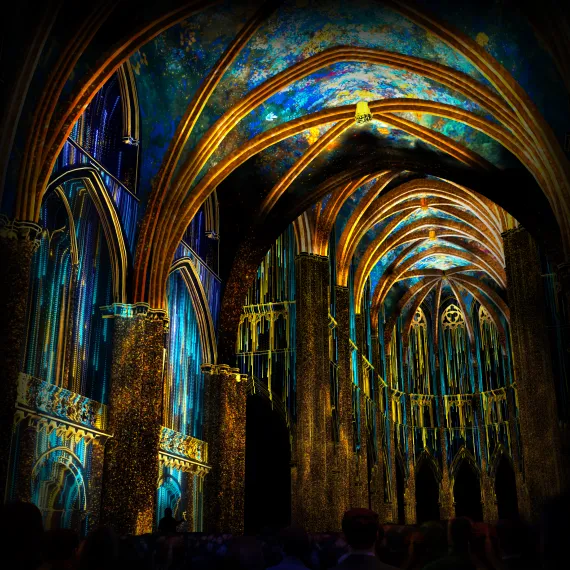 Monument
LUMINISCENCE - Immersive show Saint-André Cathedral
From 16€ / pers
Accessible to all. Merge 360-degree video mapping & spatial 3D sound for immersive history dive at Bordeaux's Saint-André Cathedral. A time-travel journey inviting all ages to relive original emotions.
An immersive show combining video mapping and spatial 3D sound.
The opportunity to uncover the secrets of the iconic Saint-André Cathedral of Bordeaux.
An experience open to all, to be enjoyed with family or friends.
By combining 360-degree video mapping and spatial 3D sound, LUMINISCENCE offers you an immersive dive into the heart of the history of Bordeaux's Saint-André Cathedral. Music resonates in the sacred space while its walls light up and transform as if by magic. The projections enhance the architectural qualities of the cathedral, from its majestic presence on the ground to the soaring of its vaults over 20 meters high. Through this breathtaking visual and musical spectacle, the cathedral's secrets are unveiled, highlighting the architectural prowess of its builders, its enchanting play of lights, and its extraordinary acoustics.
The visual projections remain the same, however, the musical experience is different:
Digital Music: This experience is based on a sound composition by Paul Lecomte, specifically designed to be spatialized through a system of 22 speakers surrounding the audience comfortably seated in the nave. This technological setup offers a unique sound immersion, carrying notes, voices, and percussion through the building, all in perfect harmony with the visual projections. This contemporary composition draws inspiration from classical and sacred music that has marked the history of the cathedral through the ages.
Live Music: This experience is elevated by the presence of a professional choir and a talented ensemble of 10 musicians including organ, harp, brass quintet, violins, and percussion. They will perform in the cathedral's choir, exploiting the unique acoustics of this sacred space, supported by our spatial sound system. As the building comes to life and illuminates, their performance offers a captivating visual and auditory transformation. Under the direction of Alexis Duffaure, cathedral choirmaster, they will interpret a repertoire of classical and sacred music rearranged for the occasion. They will take you through the ages from the Middle Ages to the present day with works by G. Holst, G. Handel, C. Gounod, L. Vierne, among others.
Good to know:
Taking photos and filming is possible. However, cameras and telephoto lenses are prohibited.
The cathedral is accessible to people with reduced mobility.
Good to know
Good to know
Duration: 45 minutes.
Immersive walk of 15 minutes in the ambulatory and 30 minutes of seated spectacle in the nave - Entry through the north gate.
Arrive on time to explore the ambulatory and discover the 8 illuminated chapels with their exhibited relics.
Tickets are valid only for the chosen date and time, and they are non-refundable.
Meeting point
Place Pey Berland, Bordeaux, France
LUMINISCENCE - Saint-André Cathedral in Bordeaux
Place Pey Berland, Bordeaux, France

Exact location
Tram A et B (station Hôtel de Ville) Bus 1, 4, 5, 15, 16 (station Palais de Justice) Bus 24 (Terminus Republique) Bus 12 (station Galerie des Beaux Arts) Bus 2, 3 (station Gambetta Mériadeck)