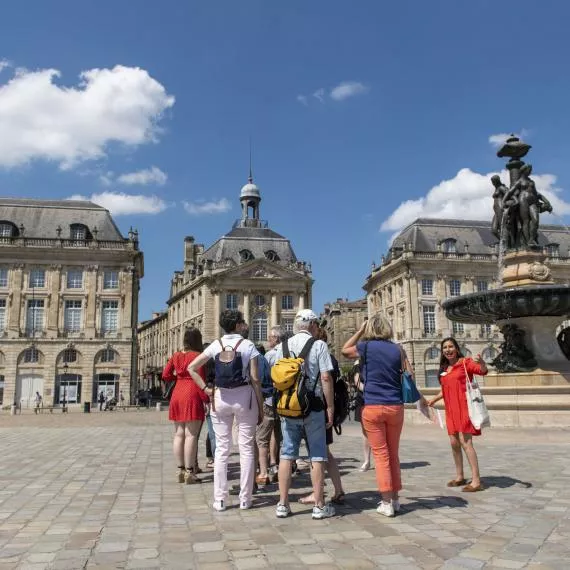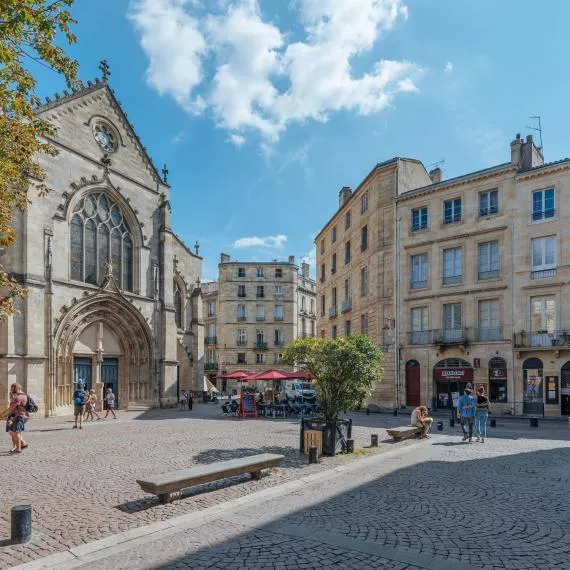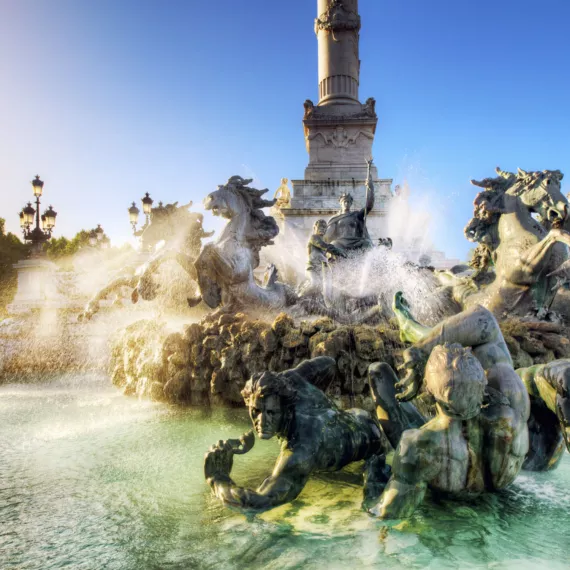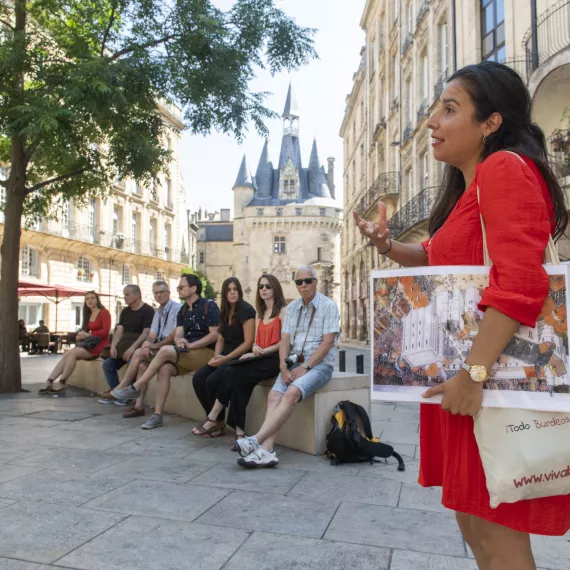 Guided tour
Bordeaux walking tour
From 12€ / pers
Discover the historic city centre with a knowledgeable guide. This 2 hour guided walking tour includes some of the city's most remarkable 18th century architecture, as well as the highlights of the UNESCO World Heritage area.
guided tour
old district
main sights
Discovering Bordeaux on foot is the best way to experience the city's diversity. The 'City of The Lumières', drawn up with a compass by 18th century architects and town planners, is synonymous with harmony: hôtels particuliers, beautiful squares and avenues are spread all along this route that takes you through picturesque areas like Saint Rémi and Saint Pierre quarters.
Some of the winding streetshave not changed since the Middle Ages. "Blondstone" is present everywhere, including in the sculpted faces that sit atop the city centre doorways,the mascarons. These stand as remarkable examples of art and masonry.
Good to know
Number of participants
2 to 20 persons
Good to know
Be at the meeting point 10 minutes before departure time
Meeting point
12 Cours du 30 Juillet, Bordeaux, France
Office de Tourisme
12 Cours du 30 Juillet, Bordeaux, France

Exact location
Tram B or C, station Quinconces
They had this experience
This tour, arranged through the Tourist Center, was a great way to start our visit in Bordeaux. It was a full two hours and our guide, Veronique, was energetic and informative throughout. During the tour, she pointed out many places of interest, which we visited later on our own. I would highly recommend it.
K
Great tour for first timers!
Excellent tour! Great introduction to the city with interesting insights. Highly recommend it!
We had this tour on the 10 of september 2022 in the morning. group was 40% french people, and 60% foreigners tourists. We did not know learned a lot of things as the guide spent most of the time speaking of his life, his opinion on Bordeaux cultural scene (in bad terms) and trying to make (bad) jokes with the attendees.. as a result we only saw 6 places nearby the Office du Tourisme. The guide was very vague in his explanations of each site, gaining time with silences for ex, despite having mentioned several times that he could speak several hours on the Rocaille style, the monuments aux Girondins or the Castle trompette. Actually, if he could have speak more than 2 minutes of each site, me and my wife would have been happy! I Not mentionning that some informations were falses following checks (G Washington did not nominate the 1st ambassador but T Jefferson for ex). I rate this experience 2* as we have had a minimum of information, most of the time following our questions, but otherwise I would have put 1*. Very disappointing as during the afternoon at 4 PM we have had an excellent tour at the "monuments aux Girondins" with another guide, very competent, impactfull and very knowledgable.
Answer from Monsieur Office de Tourisme et des Congrès de Bordeaux Métropole x
Dear Sir, We thank you for your message and we are sorry for this misunderstanding. We transfer your message to the guided tour service so we can improve our tours in the future. We hope that you enjoyed your time in Bordeaux anyway and looking forward to welcome you again. Best regards, Tourist Office Team
Very informative, a good pace, not a long walk overall. Guide was great and did in English for non French speakers. Would highly recommend and great value gir low price.