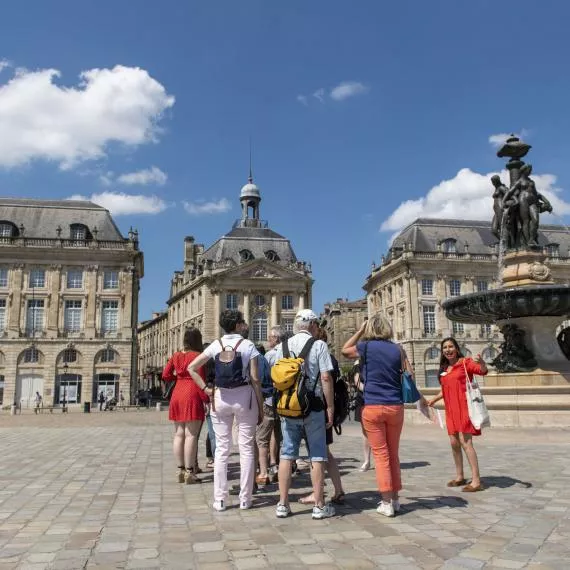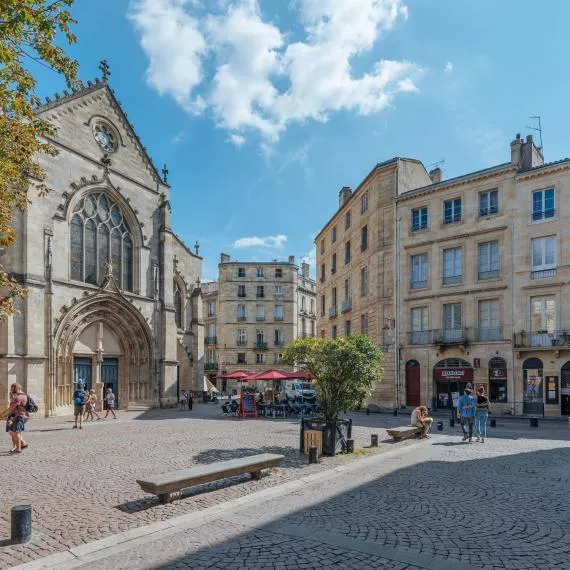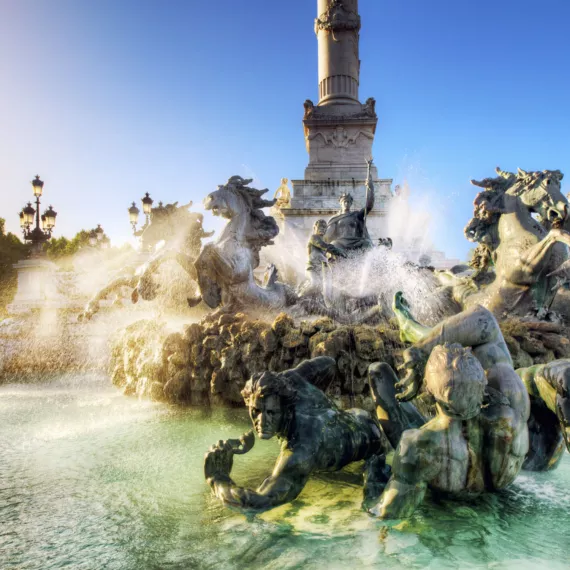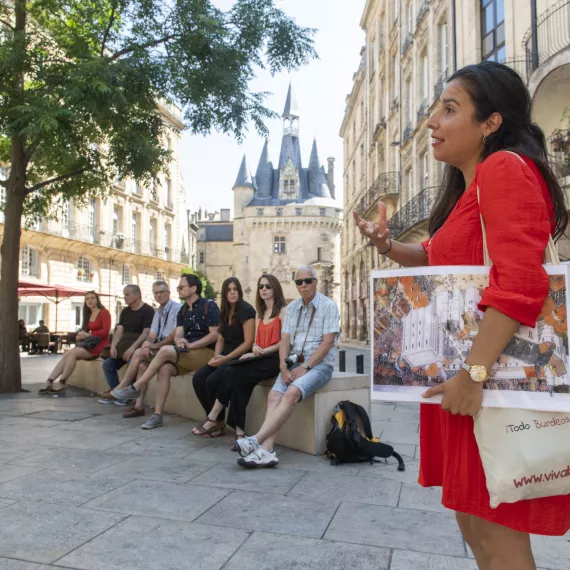 Guided tour
Bordeaux walking tour
From 12€ / pers
Discover the historic city centre with a knowledgeable guide. This 2 hour guided walking tour includes some of the city's most remarkable 18th century architecture, as well as the highlights of the UNESCO World Heritage area.
guided tour
old district
main sights
Discovering Bordeaux on foot is the best way to experience the city's diversity. The 'City of The Lumières', drawn up with a compass by 18th century architects and town planners, is synonymous with harmony: hôtels particuliers, beautiful squares and avenues are spread all along this route that takes you through picturesque areas like Saint Rémi and Saint Pierre quarters.
Some of the winding streetshave not changed since the Middle Ages. "Blondstone" is present everywhere, including in the sculpted faces that sit atop the city centre doorways,the mascarons. These stand as remarkable examples of art and masonry.
Good to know
Number of participants
2 to 25 persons
Good to know
Be at the meeting point 10 minutes before departure time
Meeting point
12 Cours du 30 Juillet, Bordeaux, France
Office de Tourisme
12 Cours du 30 Juillet, Bordeaux, France

Exact location
They had this experience
Enjoyed all the information provided by our guide. Learned many new things. Easy to book and walk was well paced. We would recommend this tour.
K
Excellent tour with very knowledgeable giode
Our guide spoke excellent English. She took us on a varied and interesting tour. She was able you answer a broad range of questions. We found it easy and straightforward to book and join up with thevtour. We would certainly recommend this offer to friends.
Very informative and fun with some nice touches of humour, great potted history of Eleanor of Aquitaine, (and a book recommendation on her!) which I have ordered! We learned much and would love to return to Bordeaux.
Answer from Monsieur Office de Tourisme et des Congrès de Bordeaux Métropole x
Dear Jonathan, Thank you for sharing your feelings about this visit. We will pass on your pleasant feedback to our team of guides. Looking forward to welcoming you on a next visit. Cordially, The Bordeaux Métropole Tourist Office team
G
Essential 'Start of Visit' Tour
This is a must as soon as you arrive in Bordeaux as it sets you up for all the areas that require further exploration. Having taken the tour on our last day we are planning to revisit Bordeaux again soon.