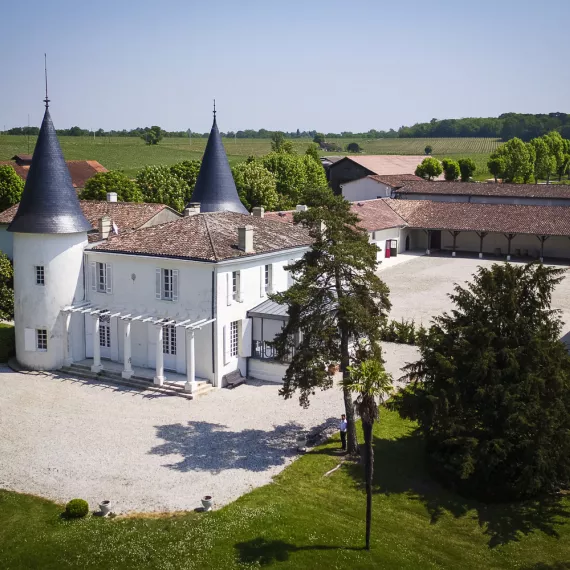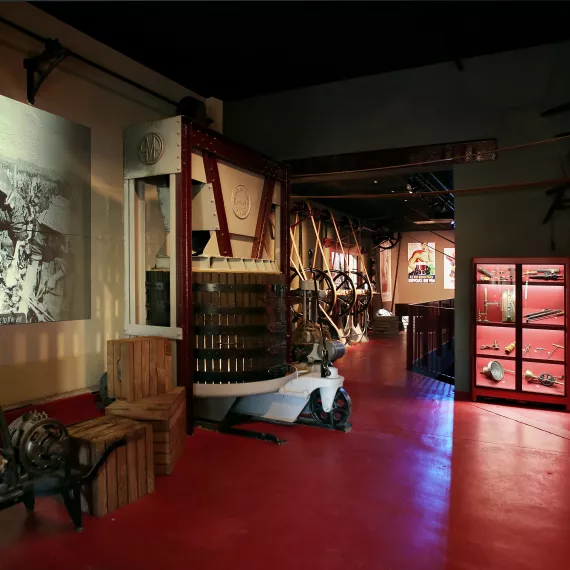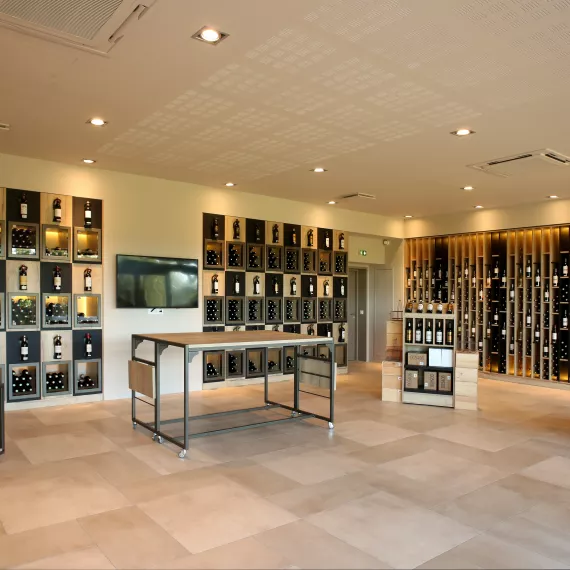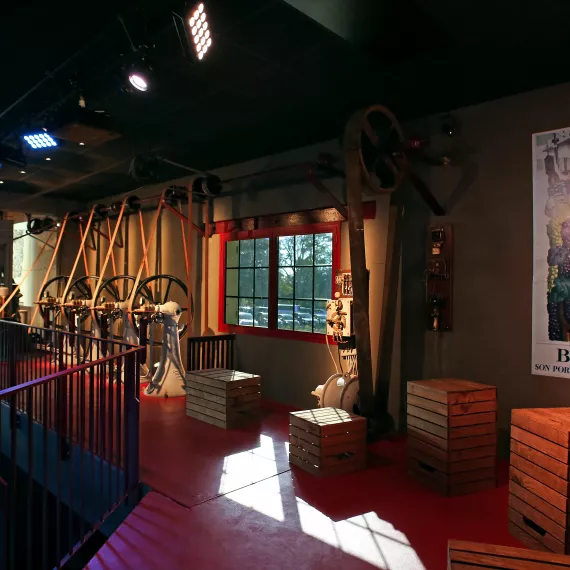 Experience
Château de Seguin - VITISHOW English Tour
From 10€ / pers
With the help of a fascinating sound&lights performance in the former cellars, you'll be taken back to 1920's to discover the secrets of vinegrowing and follow every step of winemaking. Your visit will be continued by a tasting of 3 wines in our shop offering a large selection of Bordeaux wines.
Unique wine experience
Sound&Light show
Large selection of Bordeaux wines
In the heart of Entre-Deux-Mers, we will be happy to welcome you at Château de Seguin and to share with you an exclusive wine experience – VITISHOW ! The VITISHOW is a unique wine museum which brings the visitors back in time to discover the cultivation of the vineyards and winemaking in 1920's. Thanks to a sound&light performance in the former cellars of the Château, you'll be immersed into the world of a winemaker a century ago.
You will start your visit by getting to know what a vine grower's life was like and how the work used to be done in the vineyard throughout all four seasons. Afterwards, your visit will continue as you let yourself be guided by the light of the Roaring Twenties and experience for yourself the exceptional VITISHOW ! With the help of an animated film you will be taken on a journey through the history of Château de Seguin and the world's most famous winemaking region. A fascinating show of sound and lights will breath life to the ancient wine pressing machines and will let you follow every stage of wine making process, from grape-picking to a bottle.
Your Vitishow experience will be followed by a wine tasting on the terrace with a breathtaking view on the vineyard. Our wine shop offers you a wide selection of wines of the region : the wines of our family properties (Château de Seguin and Château La France), great classified growths, red and white wines from Bordeaux. We also offer a range of spirits: beers, cognacs, whiskeys, rhum and gin.
They had this experience with BWINE
Visite très intéressante, les explications sont très claires, l'accueil très chaleureux. Très joli domaine, nous recommandons totalement cette visite!
C
A 2 pas de Bordeaux, la visite vaut le détour.
Visite très sympathique avec guide passionnée qui nous a décrit en détail les activités du château. Mes 3 jeunes enfants ont également apprécié la visite très pédagogique ainsi que la dégustation. Nous avons eu la chance de faire la visite seuls et de pouvoir ainsi poser toutes les questions en tête à tête avec la guide et de prendre le temps de déguster les différents vins du domaine avec elle.
Answer from Château de Seguin
Chère Carine, Nous vous remercions pour votre retour positif et nous sommes ravis que vous et votre famille vous gardez un très bon souvenir du Vitishow ! Au plaisir de vous revoir au Château de Seguin !
H
Une visite plutôt succincte mais agréable
Les points positifs : Une bonne présentation des méthodes ; un accueil chaleureux Les points négatifs : Pas de visite réelle du chaix ; l'arrivée dans une boutique de négoce avec présentation de beaucoup d'autres vins En bref, c'est un lieu à visiter mais qui reste très grand. Plus commercial que familial.
Answer from Château de Seguin
Bonjour Héloïse, Merci d'avoir pris votre temps pour écrire le commentaire. Nous sommes contents de savoir que vous avez apprécié notre accueil. Concernant le contenu de la visite, le parcours du Vitishow est décrit très clairement et détaillé dans sa présentation. Nous sommes donc désolés que vous n'ayez pas choisi l'offre qui aurait correspondu mieux à vos attentes, avec une visite "réelle des chais". A propos de la boutique, effectivement, en plus de notre gamme, nous offrons une large sélection des vins de la région grâce à notre société de négoce basée au Château. Cependant, pour les dégustations nous proposons et présentons uniquement les vins du domaine - plusieurs cuvées produites au sein de notre domaine familial en Entre-deux-Mers. Enfin, vous auriez certainement trouvé la visite moins "succincte" si vous n'étiez pas arrivés 15 minutes après le début de celle-ci. Cordialement
Y
Très bon accueil et environnement agréable.
Visite guidée est dynamique et instructive, plus que le film projeté en fin de parcours. Un bel endroit dans l'ensemble.
Très bel endroit. La visite vous est faite par une personne que l'on sent passionnée par l'histoire. Et le son et lumières est juste top! Surtout pour les enfants. Un très bon moment passé là bas.
Answer from Château de Seguin
Merci beaucoup pour votre gentil commentaire ! Ce fut un grand plaisir de vous accueillir au Château de Seguin et nous sommes ravis que vous ayez passé un bon moment en famille au Vitishow !
View map
Good to know
Meeting point
3 Chemin du Bon Coin, Lignan-de-Bordeaux, France
VITISHOW at Château de Seguin
3 Chemin du Bon Coin, Lignan-de-Bordeaux, France

Exact location
Bus TransGironde 404. Bus stop: BOURG - LIGNAN DE BORDEAUX
They had this experience
The visit was interesting and well done, our guide has explained accurately the wine process. It was possible to book it online, that was helpful.
Answer from Château de Seguin
Dear Andrea, Thank you for your feedback ! We are very glad to know that you enjoyed your experience at Vitishow ! Hoping to see you again at Château de Seguin, Best regards.
we booked quite a late tour but we were still able to be accommodated and were not rushed. We had a great host who stayed with us for a lot longer than the estimated timing. The history of wine production was really well covered. Would definitely visit again.
Answer from Dasha, Château de Seguin
Dear Michael, thank you very much for sharing your kind review ! We are very pleased to hear that you enjoyed your experience at Château de Seguin and that you will keep a good souvenir about the Vitishow :) Hope to welcome you again and to share with you more of our delicious wines ! Best regards, Dasha.
T
VITISHOW English Wine Tasting Tour of Chateau de Seguin
We thoroughly enjoyed the experience. Our English speaking, French tour guide was knowledgeable and enthusiastic. The animated film was very informative and straightforward to follow. Excellent value for money. If you would like to learn a bit about the wine making process and growing in this region, but do not want to pay the sort of money which many of these experiences command, I would recommend this trip.