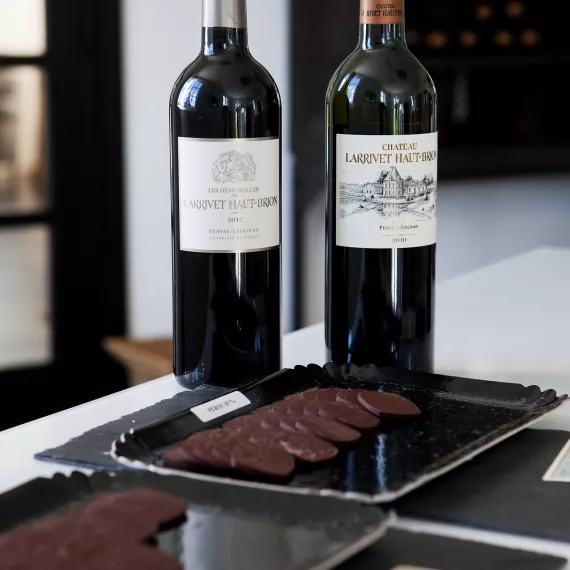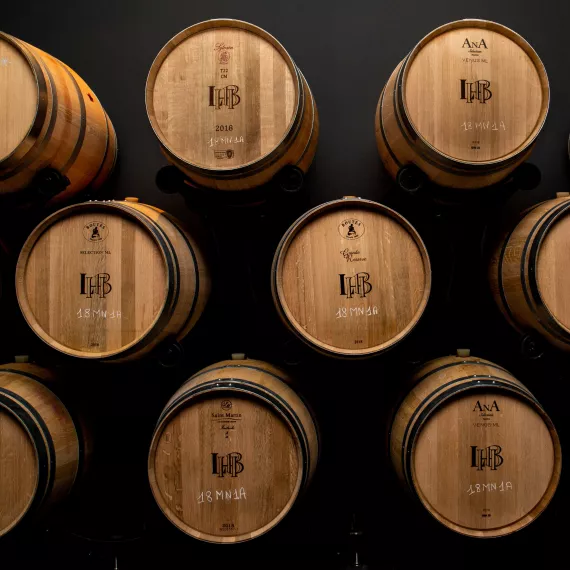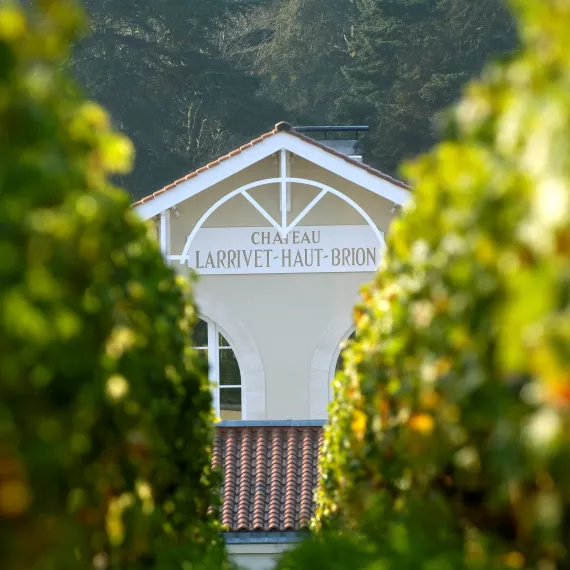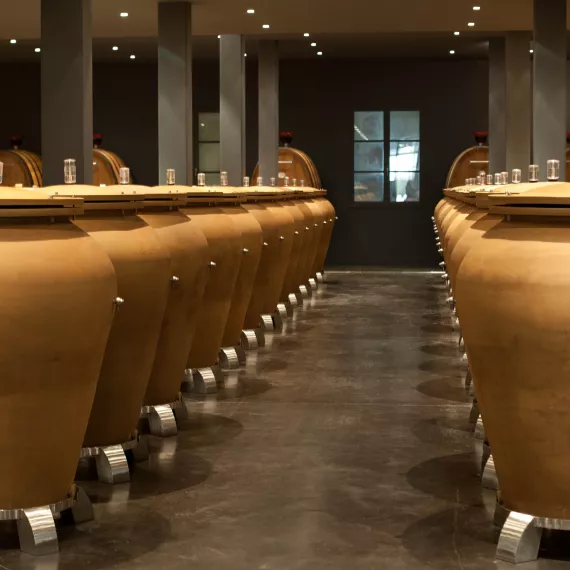 Experience
Wine & Chocolate tour at Château Larrivet Haut-Brion
From 25€ / pers
In the heart of the Pessac-Léognan appellation, Château Larrivet Haut-Brion invites you to taste its audacious and colorful soul !
Discover the secrets of our sparkling creativity by visiting our atypical cellars and their majestic "eggs" and jars, then dare the shocking meeting between 3 of our wines and Saunion chocolates ! Break the codes and bite into the gourmet selection we have in store for you, to awaken your own taste buds.
Property rewarded with 2 Golden "Best of Wine Tourism" and 1 Silver Medal at the "Trophées de l'Oenotourisme"
A unique collection of decorated "concrete eggs" and terracotta jars with an antique look
Playful tasting of 3 red wines with 3 chocolates
Access to the Vintage Garden
At Château Larrivet Haut-Brion, embrace the immensity of a world where the touch of fantasy is distilled over and over again ! We welcome you here in the authenticity of a true family home where, for over 30 years, art and innovation have been cultivated. From our collection of decorated "eggs" to the majestic jars and the Vintage Garden which is the allegory of our wines... our "Crazy Taste Buds - Chocolates" tour has many surprises in store for you!
The highlight of your gourmet getaway : the tasting. A true gastronomic score where our red wines and the dark chocolates of the firm Saunion are sublimated, the tasting is renewed each year to better surprise your taste buds.
From now, taste the wine Les Demoiselles de Larrivet Haut-Brion, paired with the chocolate St Domingue: a duo that will reveal all its fantasy and greediness...like biting into a piece of Black Forest gateau ! This is followed by an old vintage of Château Larrivet Haut-Brion accompanied by Peru chocolate, with a great deal of elegance and balance. Last arpeggio of this culinary melody: the prodigious meeting of a Château Larrivet Haut-Brion on youth and Venezuela chocolate, sketching in an obvious continuity a divine symphony which will not be without evoking the voluptuousness of salted caramel...
New gems to discover without delay !
They had this experience with Château Larrivet Haut-Brion
A
Nous avons eu la chance d'être seulement deux pour cette visite et la personne qui nous a fait la visite était vraiment très très bien , nous avons appris beaucoup de choses
Oui je recommande
D
Activité Très agréable et instructive
A faire en couple ou entre amis
D
Une très belle visite "privative"
L'amabilité de notre guide " Pauline " nous a permis de bénéficier d'une très agréable visite et d'une dégustation très attentionnée.
Les + Bon accueil pour la visite. Alliance vin/caviar intéressante. Endroit original (jarres et cuves béton design) Les - Niveau d'information trés basique quand on s'intéresse au vin, à sa fabrication, aux spécificités du terroir et aux comparaison avec d'autres productions Qualité des vins testés plutôt moyenne.
Answer from Madame Alexandra Monfort
Chère Madame, Nous vous remercions d'avoir pris le temps de partager votre ressenti suite à votre visite. Nous sommes heureux de savoir que le lieu et les contenants innovants qu'il recèle vous ont plu ainsi que l'accord vins-caviar. Nous sommes en revanche très surpris quant au "niveau d'informations très basique" que vous mentionnez : en effet, nos guides bénéficient tous d'une solide préparation théorique et pratique et sont issus d'une formation spécialisée en oenotourisme. Nous tâcherons de savoir quelles lacunes votre guide a rencontrées afin de renforcer ses connaissances. Par ailleurs, il convient de différencier la qualité des vins, d'un point de vue purement objectif, de vos goûts personnels. Nos dégustations sont définies de façon à proposer à nos visiteurs les accords les plus harmonieux possibles, mais il existe autant de ressentis que d'êtres humains. Nous pouvons donc tout à fait comprendre que les vins n'étaient pas à votre goût, mais tout le travail réalisé pour les élaborer (et qui vous a été expliqué lors de la visite des lieux) montre à quel point la question de la qualité est primordiale pour nous. En espérant avoir pu vous apporter des éléments de réponse, Bien cordialement
Belle propriété où vous pouvez vous y promener et beau chai! Visite bien faite dans les règles sanitaires, la dégustation vin caviar était intéressante, j'ai du faire changer mon verre il y avait du bouchon dedans, dommage ! J'aurais aimé que la guide connaisse plus le caviar d'Aquitaine pour pouvoir répondre à mes questions… je garderais néanmoins un bon souvenir de cette expérience
Answer from Madame Alexandra Monfort
Chère Madame, Nous vous remercions pour votre avis positif ! Vous avez effectivement bien fait de demander à changer de verre, car il est vrai que de petits morceaux de bouchon peuvent s'y glisser par mégarde : cela fait partie des risques de la dégustation lorsque l'on ouvre un bouchon en liège ;) Nous prenons bonne note de vos remarques concernant les connaissances de notre guide au sujet du caviar afin de renforcer la formation de nos équipes à ce sujet. Nous vous souhaitons une belle journée et espérons vous revoir bientôt au Château Larrivet Haut-Brion !
Premier point fort de la visite, la guide, intéressante et accessible, très à l'écoute du groupe et très compétente, que ce soit dans l'histoire du domaine ou dans la partie vinification / technique. Deuxième point fort évidemment, la dégustation, 3 vins du domaine alliés à 3 crus de chocolat soigneusement sélectionnés. Une réussite, je recommande.
View map
Good to know
What's included
Guided tour and tasting of 3 wines and 3 chocolates
Number of participants
1 to 8 persons per tour
Good to know
Please arrive 5 minutes before the start of the visit.
Meeting point
Château Larrivet Haut-Brion, 84 Avenue de Cadaujac, Léognan, France
Château Larrivet Haut-Brion
Château Larrivet Haut-Brion, 84 Avenue de Cadaujac, Léognan, France

Exact location