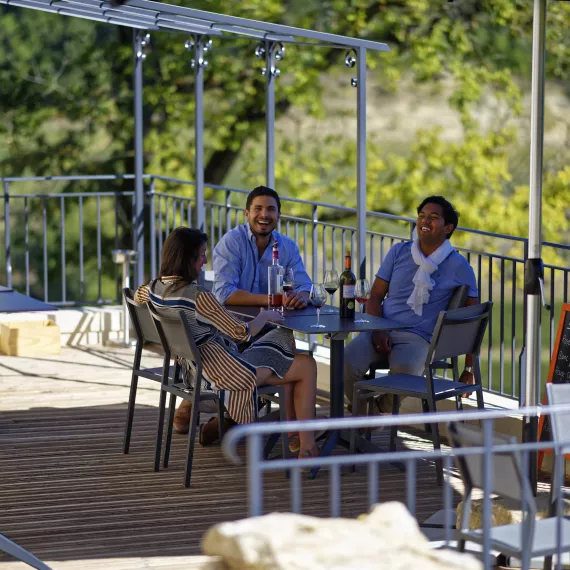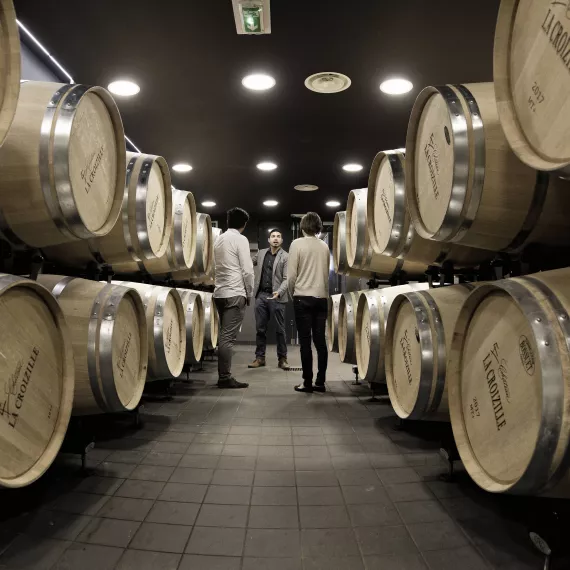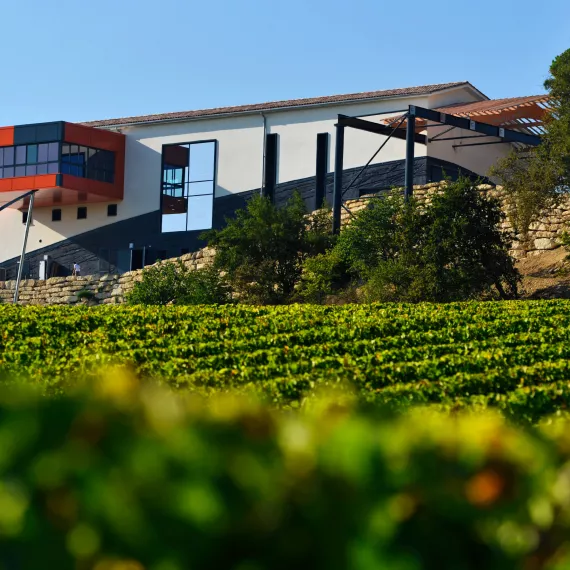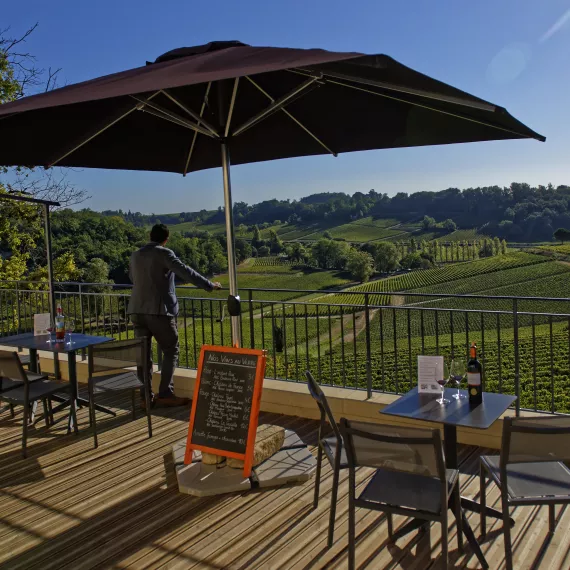 Experience
Visit & Tasting - Châteaux La Croizille & Tour Baladoz
From 14€ / pers
Visit of 2 wine properties to discover in a single visit:
Château La Croizille, with its modern cellar on the cutting edge of technology.
Château Tour Baladoz, with a traditional cellar of the region.
Followed by the tasting of 3 of our wines, in the Saint-Emilion Grand Cru appellation.
2 wineries to discover in a single visit
A tasting of 3 great wines
Explanations about the vineyard and the wine production.
Free for minors (under 18 years old)
Outstanding panorama
You will be welcomed by an experimented guide,for a tour adapted to your experience.
We begin by introducing Bordeaux wines with a varietal garden. We will give you all the elements to understand our work and the Bordeaux wine in general.
We will visit the Château Tour Baladoz, an estate wich history's goes back yto the 16's century, with traditional concrete vats. You will discover how the production works from the harvest to the bottling.
It will be followed by the visit with the Château La Croizille, an estate at the cutting edge of wine making modernity. You will then discover the differences in between the wineries production method. And enjoy an unique panoramic view on the vineyard of Saint Emilion.
We will end the tour by a tasting 3 great estate wines from Saint Emilion Grand Cru.
They had this experience with DE MOUR (La Croizille et Tour Baladoz)
Merci pour cette belle expérience. Un accueil agréable, une visite (d'une dizaine de personnes par groupe) intéressante et enrichissante avec un guide impliqué et réactif à nos questions. Lors de la dégustation, nous avons eu des conseils afin de nous aider à mieux choisir nos vins (nous sommes novices). Il y a une boutique bien sûr, mais vraiment aucune incitation à l'achat. Nous avons terminé par un pique-nique frais, bien préparé, très bon, accompagné d'un verre de vin au choix. Un petit bonheur simple et charmant dans un joli cadre. Nous recommandons fortement.
Visite intéressante sur les 2 propriétés mais un petit peu courte, on aurait aimé encore plus d'explications sur la fabrique du vin en général. Je recommande, le vin est très bon...
F
belle implication et connaissance de notre guide,bravo.
Belle visite.
J
Bonne visite au château de la Croizille
Très agréable visite avec un domaine magnifique et un guide expérimenté qui nous explique très bien le fonctionnement du château.
La visita nos gustó mucho y nos pareció que tenía un precio muy razonable. Nos atendió una guía muy amable y simpática, nos hizo la visita en español solo para nosotros y respondió a todas nuestras preguntas. Lo recomiendo.
Visite très agréable, le guide est tres gentil également très professionnel, il a pris le temps de nous expliquer tout en détail selon nos demandes. Le lieu est magnifique et tout le personnel super sympa! Encore merci pour cette visite et dégustation
View map
Good to know
What's included
Masks and hydroalcoholic gel are available on site if necessary.
Meeting point
Château La Croizille, Saint-Laurent-des-Combes, France
Château La Croizille
Château La Croizille, Saint-Laurent-des-Combes, France

Exact location
20 minutes walk from Saint Emilion train station
They had this experience
Nice experience, seeing an old and a new chateaux. The guide was really nice, explained everything very well. The view is beautiful. Its good to go with time to seat in the esplanade. The only thing is, if you're not going with a car, if you're arriving to Saint Emilion with the bus, you have to walk 30min and it was super hot, so that was a challenge.
G
Wine tasting in St. Emili on
The tour guide was a young girl and she was wonderful. Apple beautiful English and explained exactly what we were interested in and was able to answer all our questions with knowledge if the winemaking process. I wish they would have asked if we wanted something to accompany the wine. At their other chateau in Medoc they offered chocolate and I would have happily paid extra for something small to accompany the wine. Drinking different types of wines without eating something can be "challenging ". I found out later you can order something for them to bring in.
It was a very satisfying experience. The friendly attitude of the staff was impressive. Don't hesitate to make a reservation.