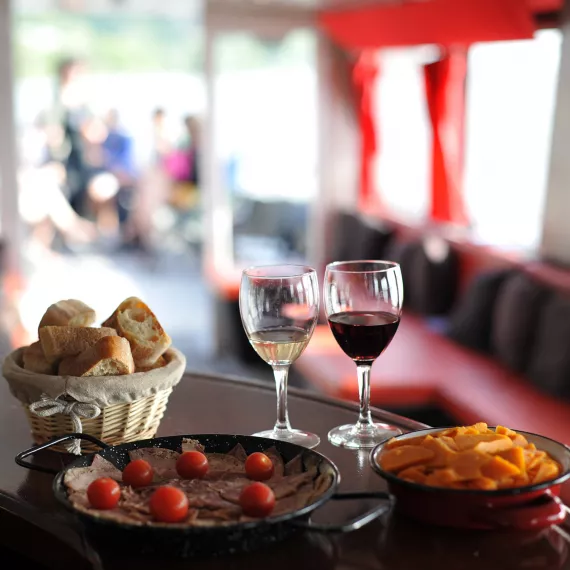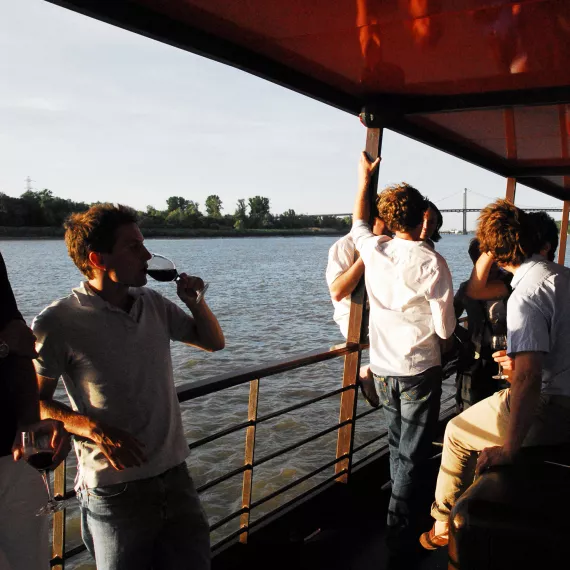 On the river
Boat cruise with aperitif & wine tasting
From 29€ / pers
Enjoy a scenic river cruise to discover Bordeaux differently. With family, friends or colleagues, spend a convivial, relaxing moment aboard our boat 'SARDANE'. You will taste 2 differents and carefully selected wines, matching with fresh and regional products: breads, cheeses and cooked meats.
1 hour and 30 minutes of cruise in the Port de la Lune
Tasting of regional products
Convival experience
PROGRAM
01h30 river cruise along the UNESCO waterfront
Passing in front of the 'Place de la Bourse' next to the 'Pont de Pierre'
Passing the vertical lift bridge and the 'Pont d'Aquitaine'
U-turn at the portuary area of Bassens
Tasting of 2 wines
Cheeses, delicatessen and bread
Bordeaux River Cruise propose des croisières au départ de Bordeaux dans le cadre d'un repas croisière, d'une navigation vers les îles de l'Estuaire, ou encore en promenade commentée avec dégustation de vin. À bord de l'un de nos trois bateaux, partez à la découverte de la région Aquitaine, depuis la Garonne afin de découvrir les célèbres vignobles du Bordelais en passant par les quais classés au "patrimoine mondial UNESCO".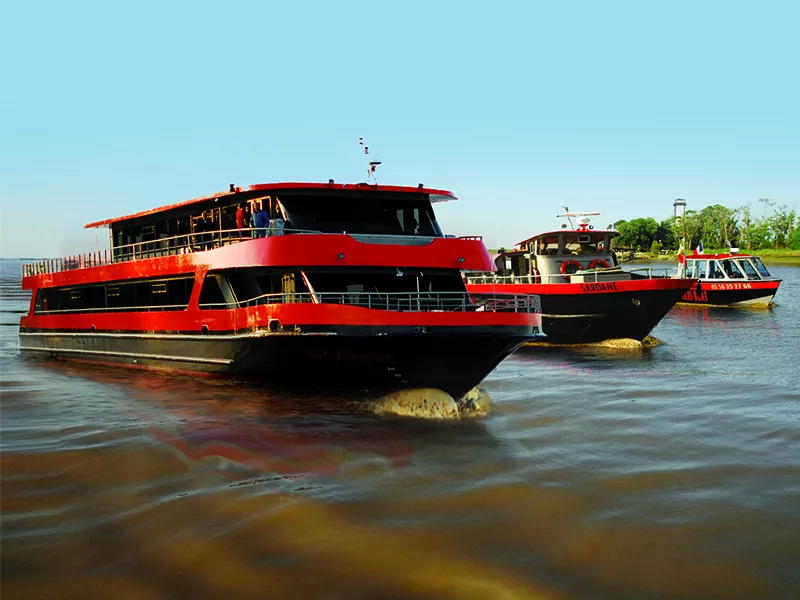 They had this experience with Bordeaux Croisière
C
Très pratique ce City Pass
le City Pass est absolument pratique… ça vaut vraiment le coup.
La balade en bateau était très sympa, dommage qu'il y avait beaucoup de vent et qu'il faisait frais (peut-être prévoir de petites couvertures?). La partie dégustation était très réussie et on a fort appréciation le panier "fromage et charcuterie". J'ai aussi apprécié l'excellent rapport qualité prix du vin servi/dégusté. Ce que j'ai fort apprécié c'est qu'on ne pousse pas du tout à la vente. Le service à bord est super.
R
Parfait.guide qui sait captiver son public avec humour
Je recommande cette activité à d'autres personnes
S
Très bonne formule découverte
Prestation de qualité, bien organisée Idéale pour découvrir la ville, son histoire et prendre un verre Très bon rapport qualité prix La diffusion du son-micro est bien répartie. Je suggèrerai de diminuer le temps de parole sur la 2eme partie de la croisière car la capacité humaine d'attention baisse et qu'entre amie-s les langues se délient donc pas si évident de s'entendre. Je recommande vivement cette expérience en couple ou entre amis.
Petit bémol pour les entrées il pourrait avoir 2 entrées aux choix. Et pour le prix ont pourrait avoir un apéro de bienvenue. Autrement c'était très bon.
C'était très agréable cette petite croisière sur la Garonne. Nous avons apprécié mes copines et moi. Petite surprise à l'arrivée le bateau était plus grande sur la photo. La guide très sympathique.
View map
Good to know
What's included
1 hour and 30 minutes of cruise
Wine tasting of 2 wines
Cheeses, delicatessen, bread
Number of participants
Departure assured with minimum 15 adults passengers and maximum 45 adults
Good to know
Meeting point : Pier "Bordeaux River Cruise" Quai des Chartrons, boarding at 6.45 pm and departure at 7 pm 
Meeting point
Face au n°24, Quai des Chartrons, 33000 Bordeaux, France
Bordeaux River Cruise
Face au n°24, Quai des Chartrons, 33000 Bordeaux, France

Exact location
Tram B - CAPC (Museum of Modern Art)
They had this experience
Thoroughly enjoyed this event. Lovely views of the banks of the Garonne, white and red wine and a chance to chat with the winemaker, generous cheese and cold meat provision, and a warm welcome and presentation from the guide. Booking was straightforward, as was boarding. Very much recommended.
P
The Evening winetasting cruise was a lovely time.
It was worthwhile to have a winetasting in English and French in a relaxing setting.
The cruise was nice and the apero and snacks were good. However, the staff was not helpful. I have reduced mobility and I asked a male staff to help me with the big step in order to get off the boat. He pretended that he didn't understand me and refused to help. I pointed to the step and said aidez- moi s'il vous plait. How could he not understand? In the end, the man who was providing the wine came to help me and it took just less than 1 minute. Your staff needs to be educated and reminded that not everyone is able to jump on and off the boat. Overall I had a great time in Bordeaux but that incident did leave a negative impression for me.