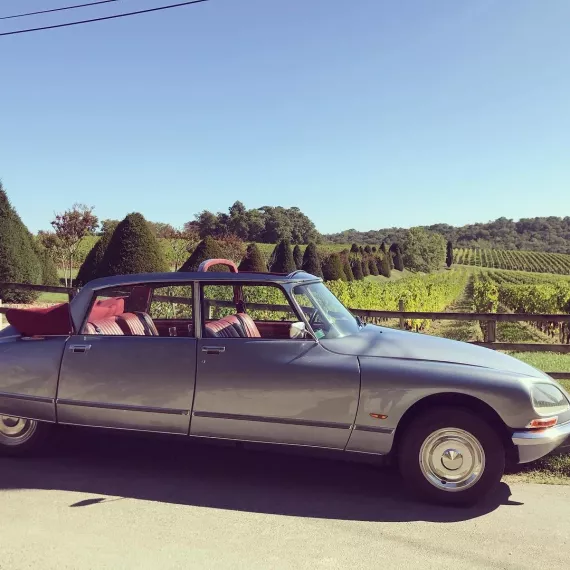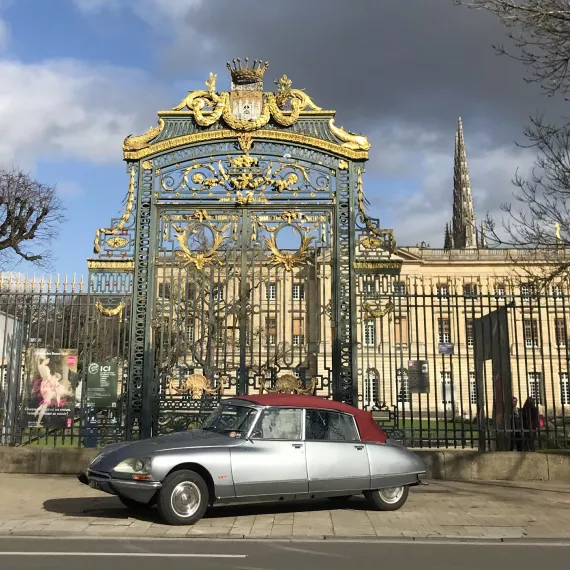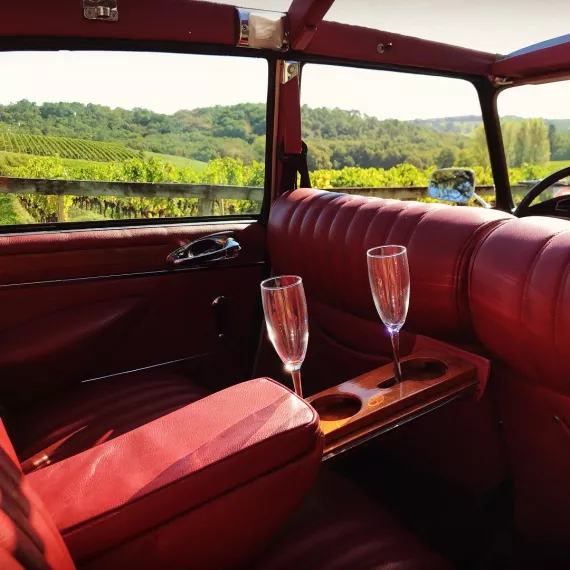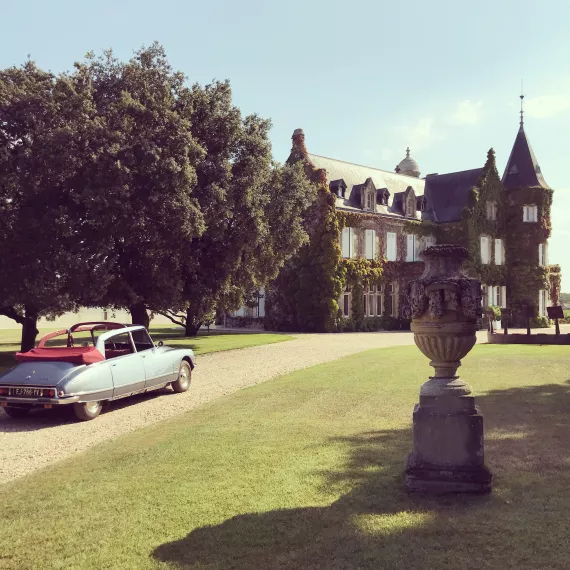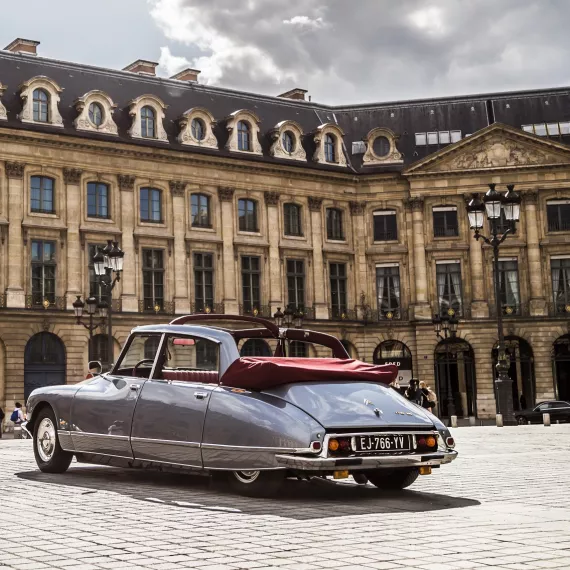 Excursion
Luxury private tour of Bordeaux and vineyards
Enjoy in the same tour the two highlights of Bordeaux : the elegant heritage of the city centre and the famous wine estates in the surroundings !
Comfortably installed aboard our Citroën DS Limousine Convertible, you will enjoy a panoramic view hair in the wind.
Citroën DS Limousine Convertible of 1973: only one in the world !
Private guided tour - English speaking
Visit and tasting at a wine chateau of the Pessac-Léognan appellation
Minibar onboard (optional)
The Bordeaux region is a concentrate of French culture and Art de Vivre.
Travelling trough the most prestigious vineyards of France aboard a prestigious classic car, hair in the wind with top down: the best way to experience French Art de Vivre !
Our 1973 Citroën DS Limousine Convertible is a masterpiece of French elegance, refinement and comfort. This private tour can be fully customized to your aims and wine tastes.
A luxurious and unforgettable experience into the very best of France ! A mix of culture, heritage and good wines ! So French !
In Bordeaux we will cruise around the UNESCO classified old town.Then your guide is driving you to the South countryside of Bordeaux, where are the wineries of the prestigious Pessac-Léognan appellation.
We will stop at a Wine Chateau where you will have a visit and optional tasting.
Would you like to taste red wine, or white wine ? You prefer small family-owned property, or prestigious chateau ? Tell us your wishes for a bespoke experience.
Good to know
What's included
Pick-up and drop-off at any address in Bordeaux
Private chauffeur-guide, english speaking
Not included
Wine tasting fee at your own expense
Number of participants
1 to 4 passengers
Good to know
Cancellation policy: full refund up to 72H (3 days) before departure
Meeting point
Bordeaux, France
Any address in Bordeaux
Bordeaux, France

Exact location
They had this experience
This was the highlight of our visit. Guillaume is terrific - he customized our trip to accommodate the interests of our group (including two kids) and we all had a grand time. And how much fun it was to ride around in such a lovely car! This was a very special day indeed and a terrific value. Just go!
J
Luxury private tour of Bordeaux and Château Olivier vineyard
Excellent tour with Guillaume in his Citroen DS. Very knowledgeable about the history of Bordeaux. Car comfortable and beautifully presented. Only removed one star from the fun factor, because he forgot the Champagne and truffles. Tour of the Château Olivier very interesting, and just the correct length at an hour and a quarter. Wine tasting superb. Definitely the way to travel , with the roof down and the sun shining. Would definitely recommend.
Amazing guide! Great tour! Recommended!!!!
The booking was exceptionally easy and subsequent communication was very good. Our driver was very knowledgeable and friendly and met us in good time. We thoroughly enjoyed the tour around Bordeaux in the beautiful and comfortable Citroen DS, followed by a fabulous wine tasting and tour of the Chateau Haut Lafitte Smith. We would certainly recommend this tour to our friends.