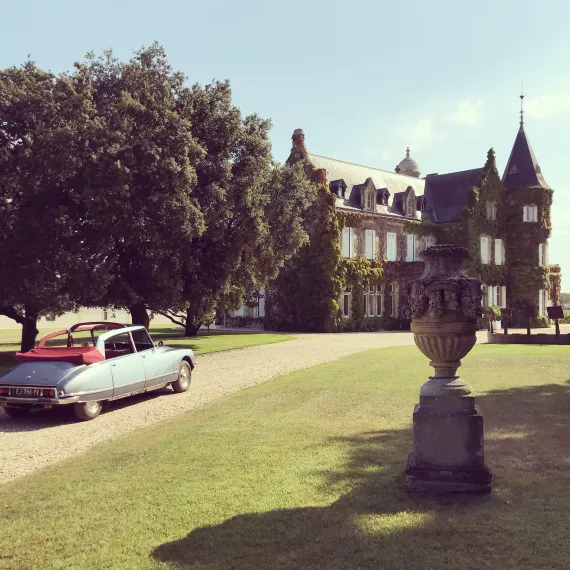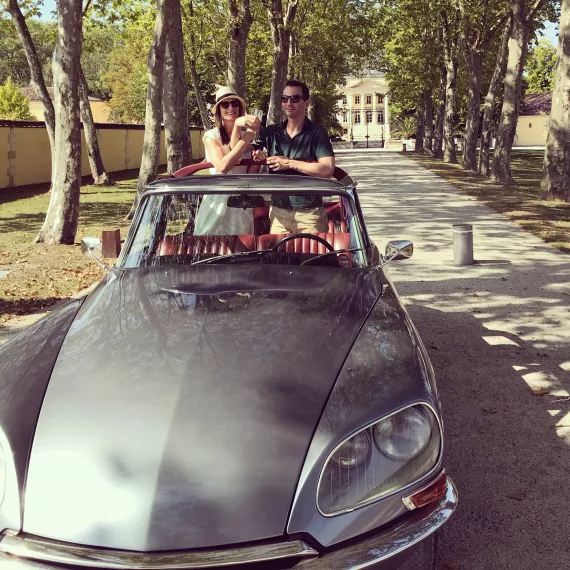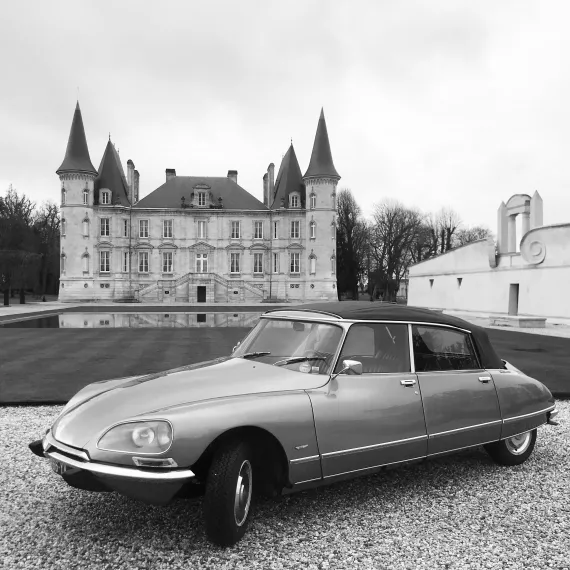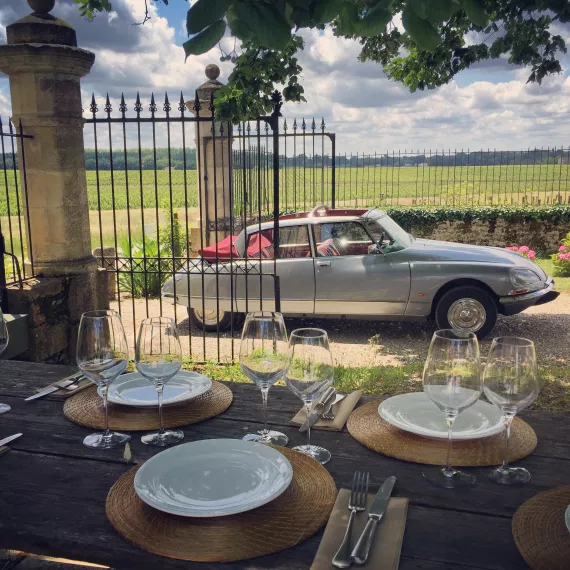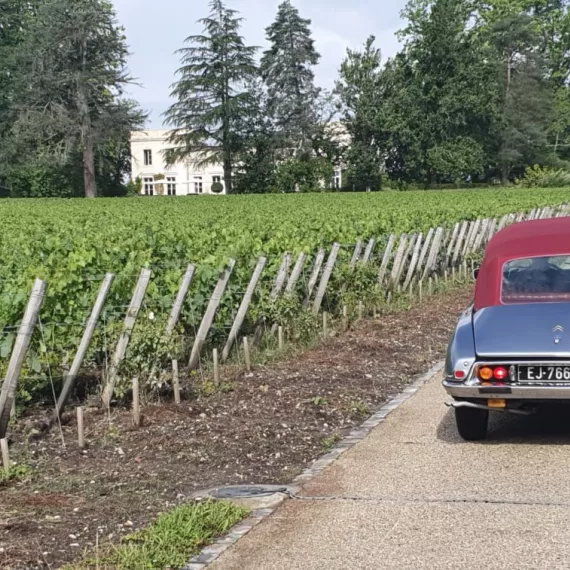 Excursion
Private luxury wine tour in a presidential Citroën
A road trip across the spectacular Bordeaux vineyards, aboard an exceptional French classic car: a Citroën DS Limousine Convertible !
You will enjoy the panoramic view hair in the wind, in full comfort.
Your chauffeur-guide will make you discover the most beautiful sights and the most prestigious wine chateaux.
Citroën DS Limousine Convertible of 1973 : only one in the world !
Private guided tour - English speaking
Tour duration: half-day (4H o 5H) or full-day (8H to 9H)
Visits and wine tastings according to your wishes
The Bordeaux region is a concentrate of French culture and Art de Vivre.
Travelling trough the most prestigious vineyards of France aboard a prestigious French classic car: the best way to discover this rich heritage !
Your private chauffeur-guide offers you a tailored experience: choose your destination (Saint-Emilion, Médoc or Sauternes) and the duration: half-day (4 to 5H) or full-day (8 to 9H).
During your DS tour you will enjoy visits and wine tastings at top growth chateaux, or family-owned estates with a private visit by a passionate owner.
For the full-day tour, we will suggest you a charming restaurant, or an elegant picnic in the park of a beautiful chateau.
For the Saint-Emilion destination, we will propose you a visit of the medieval village.
Any special wish? We will turn it into an unforgettable experience !
Good to know
What's included
Pick-up and drop-off at any address in Bordeaux
Private chauffeur-guide, english speaking
Our service to organize your tailored itinerary
Not included
Visits and wine tasting fees at your own expense
Lunch
Number of participants
1 to 4 passengers
Good to know
Cancellation policy: full refund up to 72H (3 days) before departure
Meeting point
Bordeaux, France
Any address in Bordeaux and close surroundings
Bordeaux, France

Exact location
They had this experience
The experience was really nice, it is very special to ride through the vineyards in such an amazing car. Guillaume is knowledgeable, respectful and a good driver! He managed to take us to beautiful chateaux even though it was winter and Saturday and most of them were closed.
Where do I begin...Guillaume, The Car, The Wineries....all amazing and all worth every penny! Merci Guillaume for a memorable + incredible day! See you next year! Julie+Mike
We had a great day out for my husband's birthday. Our driver was lovely and the car was immaculate! Thank you for a very memorable trip Gulliame
Guillaume was incredible, booking everything and providing history of the city and all the Chateaus we visited and passed along the way. His Citroen car is beautiful, spacious and comfortable. For anyone considering booking with Guillaume, stop now and just do it. My wife and I felt that we were living a romantic movie. I cannot recommend enough.