Bordeaux Wine Trails offers a unique experience of Bordeaux's wine expertise and lifestyle. Let our local guides take you to the most beautiful Chateaus of the region for up close and personal visits. Your senses will travel with our food and wine pairings of chocolate, cheeses and cured meats so you get an authentic taste of life in France!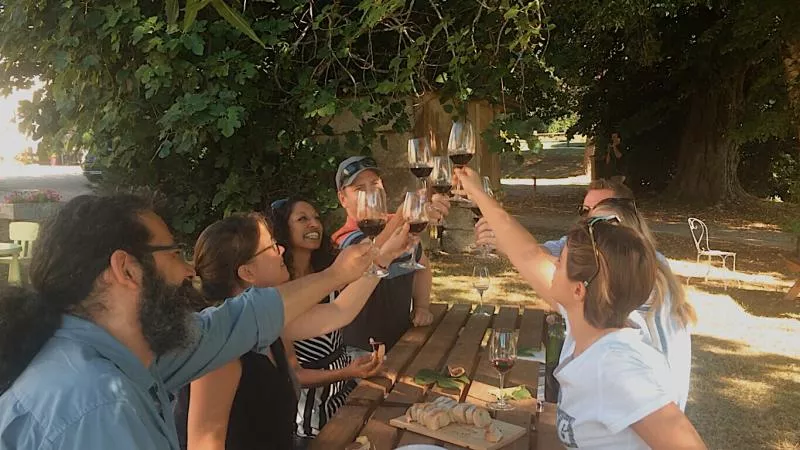 They had this experience with Bordeaux Wine Trails
S
Very nice tour in a small group with very nice guide
The bike tour is super nice to go through the vineyards and know about the bordeuax wine. Our guide Maria was super nice, fun and knowledgeable. We visited two chateaux and Saint emilion. One of the visits to chateaux could have been better, it was very short explained and had no visit to the wine making process. I definitely recommend this tour.
We sincerely enjoyed our tour with Jonathan and would highly recommend it! We have done others in the past in many regions and did not learn much about wine as we had with him. We had a wonderful experience visiting many selective Chateaus! A big surprise was a wonderful lunch sampling wine and cheeses while of course drinking more wine! A true gem!
D
Great tour of Saint Emilion
This was a great tour of Saint Emilion with two wine tasting sessions - and made even better by the beautiful Bordeaux sunshine. Our guide, Clement, was super and engaged the group throughout. The only thing missing was walking into the vines. However, I'd thoroughly recommend!
M
Maria is a 1st Rate Guide!
Maria, turned our group visitors into a group of 8 friends who laughed, learned, had some wine and enjoyed each others conpany for an afternoon. A most memorable experience! (PS. I'll need one of those cellar "eggs" from Chateau de Terme
R
Saint-Emilion Tour Small Group
Nat, picked us up at the precise time and location. We were a small group of 4 couples which made the tour feel personal. We visited two small delightful Organic and Bio wineries. The hosts of the wineries explained their wine making and vineyards processes which was very informative. The personal tour of Saint-Emilion was an added bonus. Just the right amount of time for us. I would recommend this tour.
D
Une bonne journee au vins
It was a good day out in wine country. Well organized small group tour. Clear and interesting presentations at the 3 chateaux we visited. Delicious and generous lunch beside the vines. Sufficient time to wander through St Emilion. Engaging young tour leader.