Bordeaux Wine Trails offers a unique experience of Bordeaux's wine expertise and lifestyle. Let our local guides take you to the most beautiful Chateaus of the region for up close and personal visits. Your senses will travel with our food and wine pairings of chocolate, cheeses and cured meats so you get an authentic taste of life in France!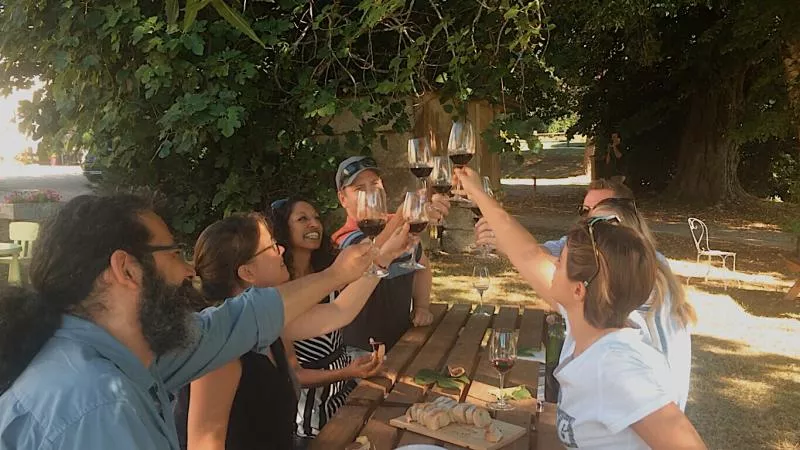 They had this experience with Bordeaux Wine Trails
A
Really awesome time. Definitely recommend
Johnothan knows a lot about wines and not just from France. He was able to tell us all about the wines from all of the participants countries. The wines were really nice and it's in a great location too, really close to everything. Johnothan is also very funny so made the class really enjoyable. Would definitely recommend!
L
10/10 experience -- worth every penny!
Though this is definitely a wine tour, it also features so much wonderful sight-seeing, history/background on Bordeaux and St. Emillion, and is truly a wonderfully unforgettable experience. Any time our friends ask us about our Honeymoon (which this was a part of), our wine tour is always brought up as one of the biggest highlights.
D
Great wine and great history
The tour guide was wonderfully knowledgeable and it was great to visit a couple of smaller premium wineries. Learning about the interesting history of the town was an unexpected bonus.
N
Incredible Afternoon in Saint-Emilion
Our experience was incredible! Yan was our tour guide and was extremely knowledgeable about the region and the wines. We had so much fun and learned a great deal of information that we applied to the rest of our vacation in Bordeaux. Booking this afternoon tour has our highest recommendation! It was the highlight of our vacation and a tour we will remember for the rest of our lives.
I liked the educational tour hosted by our guide. He's clearly knowledgable and provided interesting insights about Bordeaux and St. Emillion. The van was comfortable and hassle-free. What I didn't like was the "chocolate pairing". I was expecting good chocolates to pair with the 3 varieties of wine. However, the chocolate was an ordinary chocolate and in tiny portion that came from the guide's Tupperware. In addition, the guide was around 10 minutes late.
Our guide Clement was great! He did a great job at explaining the history, wine, and answering all of our questions. The length was perfect and it was great to have the opportunity to see St. Emilion. The second chateau we visited was fantastic and it was nice to taste the wine on site. My only piece of feedback would be to collect special diets upon booking as the cheese provided on the plate at the second winery was touching the meat. It would have been nice to have a vegetarian plate for those of us who didn't eat meat. Otherwise an enjoyable afternoon and easy way to see St. Emilion and learn about wine.