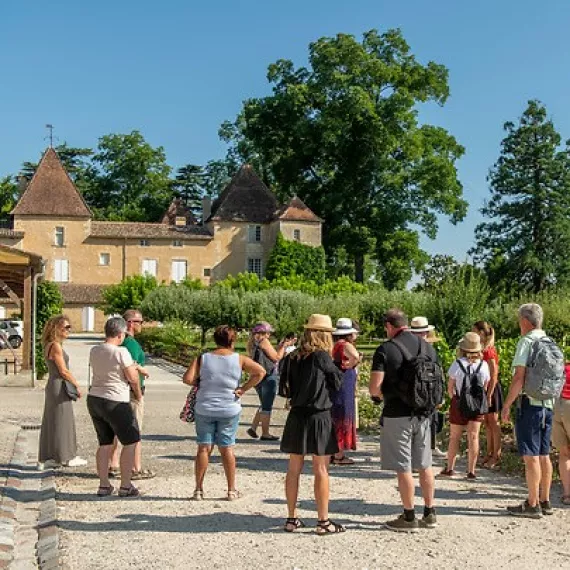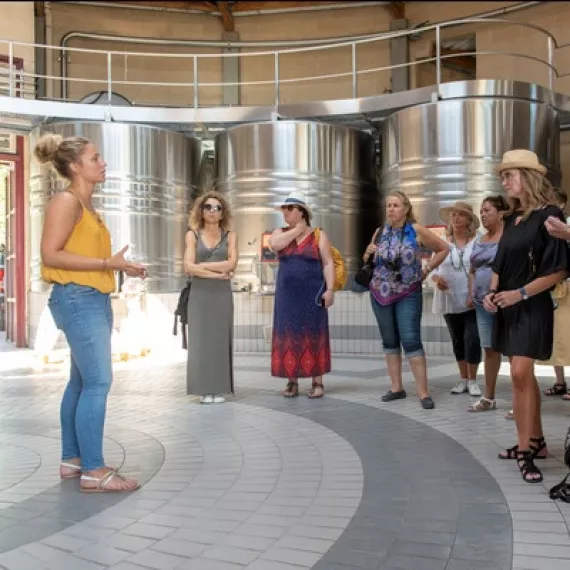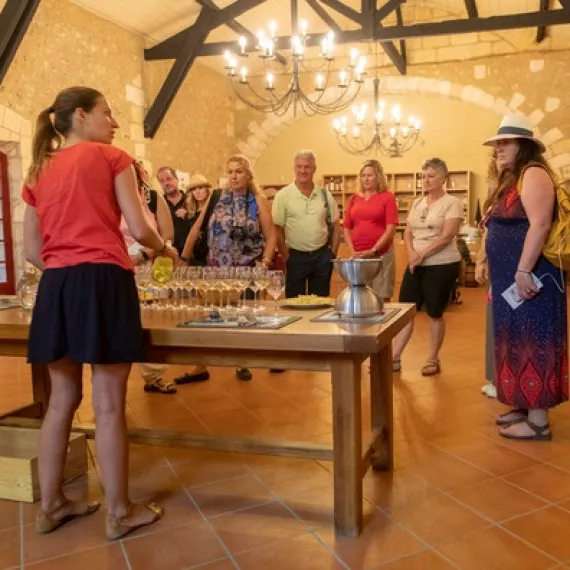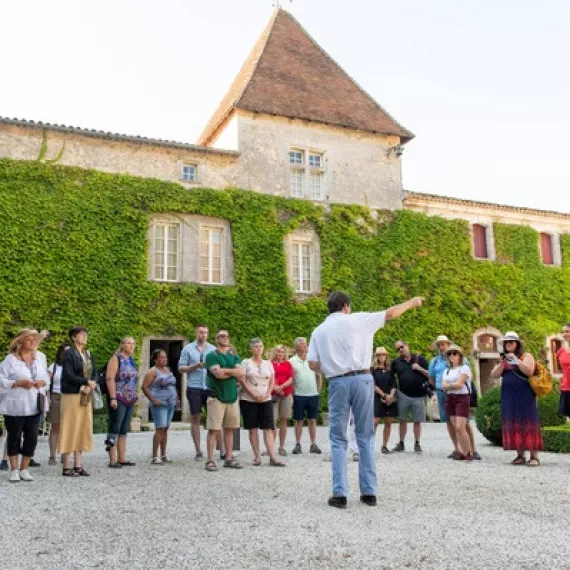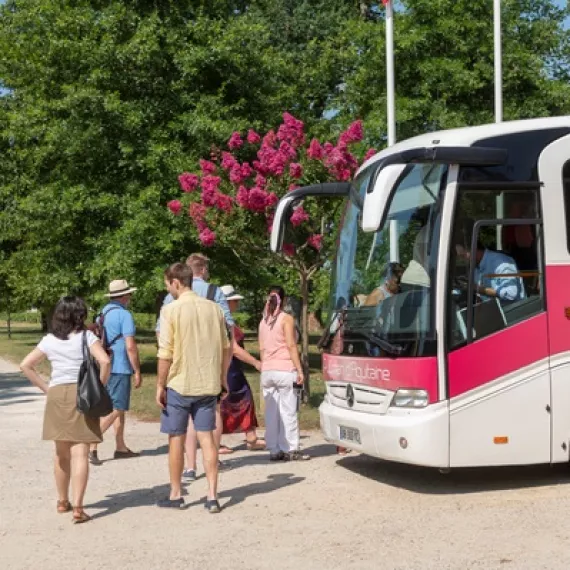 Excursion
Chateaux & Terroirs, on the Bordeaux wine roads
From 45€ / pers
Do you have only a few hours to discover the Bordeaux wine country? Then this "flying visit" is just for you! Are you interested in seeing mythical châteaux in the Médoc? Famous estates in Saint-Emilion? The "golden" wines of Sauternes? Yes, but there is so much more! Bordeaux also has plenty of lesser-known appellations, small family estates, affordable wines, etc.
Tour conducted by official guides with professional card, in French and in English
A good overview for a first visit
An attractive price for a first discovery of the Bordeaux vineyards
Discover the amazing underground church of Saint-Emilion (Sundays)
With this tour you will discover the diversity of the Bordeaux wines during an afternoon session every week. The destination is different every day and each one has its own special charms!
Bourg & Blaye on Thursdays is a nice wine region North of Bordeaux along the Gironde Estuary; two familial properties will open their doors to show you how they make the wine; a tasting of 2 wines at each chateau is on the program.
The Medoc on Tuesdays & Saturdays and Entre-deux-Mers on Fridays with the visit of 2 wineries and wine tasting. Your guide will remind you at this point that you first of all taste wine with your eyes and nose!  
Visit the Graves and Sauternes on Wednesdays to discover two beautiful wineries and taste all the colors of the wines, one in Graves and one in Sauternes.
Saint-Emilion, the name of a famous charming village and of delicious wines, on Monday & Sunday.You will start with the visit of the amazing underground church in the Saint-Emilion village followed by a guided tour in the small streets. Then the tour continues with a visit to one wine estate in Saint-Emilion appellation or surroundings where you will learn about the winemaking process by discovering the vat room, the cellars with all the barrels, etc.. A tasting of 2 wines will be offered.
 Departure at 1:30pm / return at 6:30pm
Monday Saint-Emilion
Tuesday Medoc
Wednesday Graves & Sauternes
Thursday Blaye & Bourg
Friday Entre deux Mers
Saturday Medoc
Sunday Saint Emilion
To be noticed: Friday 23 & Friday 30. December: Saint-Emilion
From November to March: Saturday (Medoc) & Sunday (St Emilion)
 TO BE NOTICED: the tour is not available for children under 5 because of security and insurance reasons.
Organized by Office de Tourisme et des Congrès de Bordeaux Métropole
Good to know
What's included
Professional guide, transportation by coach, visit of 1 winery including wine tasting (limited by the French law), entrance to the underground church of Saint-Emilion or visit of 2 wineries and wine tasting in the other wine regions.
Number of participants
From 10 to 50
Good to know
Be at the meeting point 15 minutes before departure time
The departure of the tour is confirmed if 10 adults are registered. 
Please present one ticket per person; the tour is not available for children under 5.
Meeting point
12 Cours du 30 Juillet, Bordeaux, France
Office de Tourisme et des Congrès de Bordeaux Métropole
12 Cours du 30 Juillet, Bordeaux, France

Exact location
Tram B, C or D, Quinconces Station
They had this experience
E
A good tour but could have been better
Booking the tour and the meeting point was easy and convenient. Brigitte, our guide was an absolutely lovely lady. She was excellent. The bus was excellent. It would have been better if we were told upon booking, that we would have 2 hours in St. Emillion to explore and some advice on the best way to spend the 2 hours would have been helpful. This information should be given at the time of booking by Isabella and then could have been restated by Brigitte onboard. The tour guide at the winery was not good. She spoke too fast and was not loud enough. She allowed no time for questions and discouraged questions throughout. We were rushed through the winery.
Answer from Monsieur Office de Tourisme et des Congrès de Bordeaux Métropole x
Dear Elaine Thank you for your message . We have noted your comments about the visit of the village and the winery. Regarding the village visit, free time for personal discovery is is scheduled in the tour which is appreciated by most people. ( around 45 minutes)We have taken in consideration your comments about the winery in order to improve the quality of our vineyard tour Best regards
C
Chateaux & Terroirs - Wednesday Graves/Sauterne
this trip was everything i had hoped for and more. a region i had not been to before (graves) two beautiful, historic and fascinating chateaux, with excellent presentations at both. the bordeaux guide was excellent too, informative, relaxed and helpful. even though the bus was full, the tour was well organised, so it did not feel crowded. so, just as much information and fun as would be expected on a smaller group tour, but at a much lower price! and now i know all about liquorous wine!!
K
Beautiful area however could not hear what was said by vineyards as too large a group
Beautiful area, comfortable coach, excellent tour guide on coach. Unfortunately most of the trip was nasef on listening was was being said in wine warehouse. I could not hear what was being said as there are approximately 60 people on the tour. A microphone and speaker box is required . Maybe a walk through the vines would be nice
Answer from Monsieur Office de Tourisme et des Congrès de Bordeaux Métropole x
Dear KATH, We thank you for your message. We are sorry to hear that the visit didn't fit all your expectations. In order to improve the quality of the next visits, we forward your commentaries to our service in charge of organising guided tours . We hope that you enjoyed your time in Bordeaux anyway and looking forward to welcome you again. The Tourist Office Team
R
Great vir every red wine lover.
Yes.