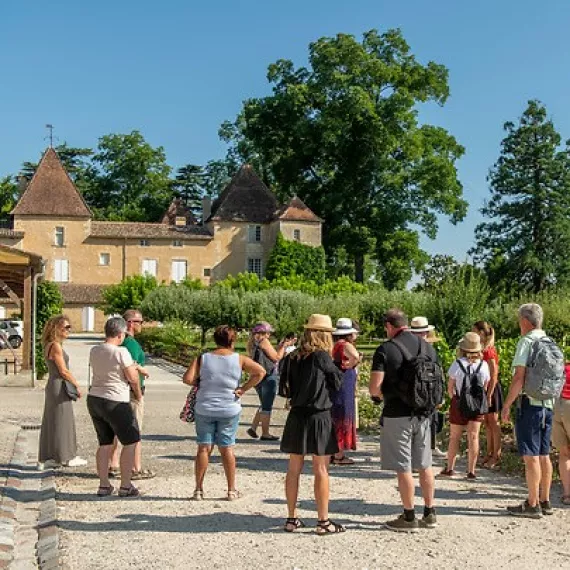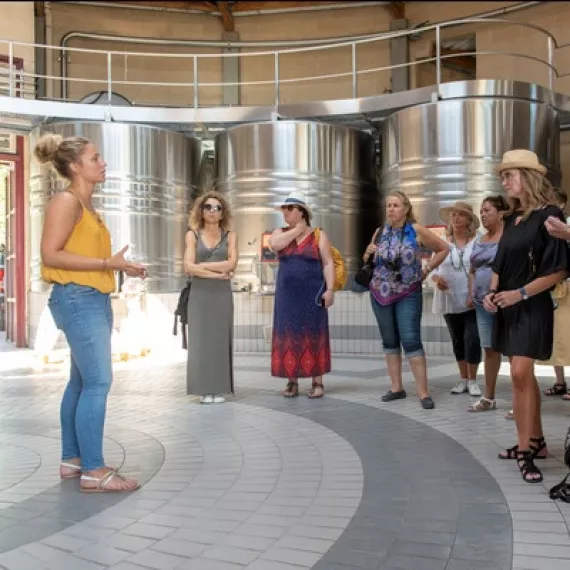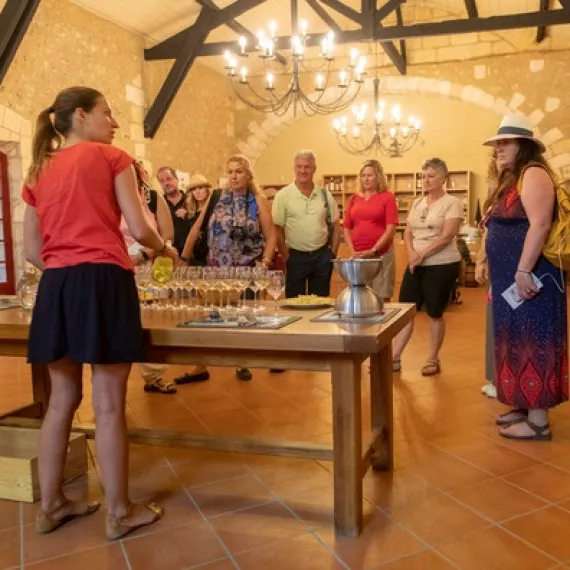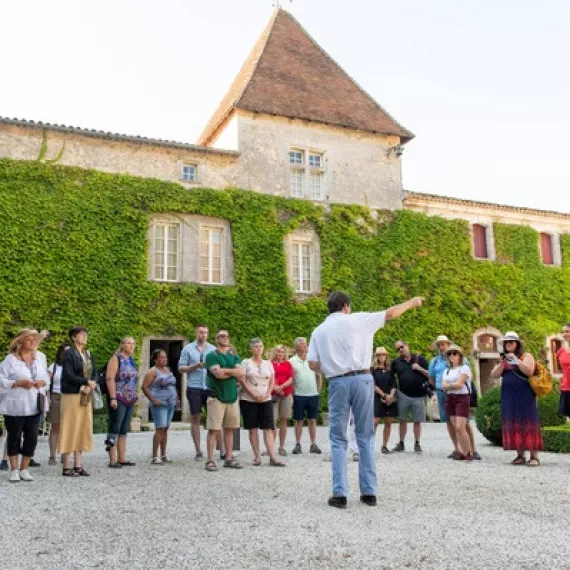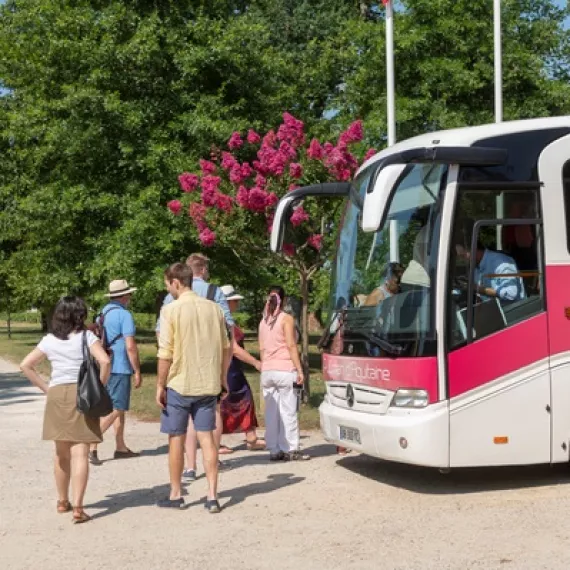 Excursion
Chateaux & Terroirs, on the Bordeaux wine roads
From 50€ / pers
Do you have only a few hours to discover the Bordeaux wine country? Then this "flying visit" is just for you! Are you interested in seeing mythical châteaux in the Médoc? Famous estates in Saint-Emilion? The "golden" wines of Sauternais? Yes, but there is so much more! Bordeaux also has plenty of lesser-known appellations, small family estates, affordable wines, etc.
Tour conducted by official guides with professional card, in French and in English
A good overview for a first visit
An attractive price for a first discovery of the Bordeaux vineyards
Discover the amazing underground church of Saint-Emilion (Sundays)
With this tour you will discover the diversity of the Bordeaux wines during an afternoon session every week. The destination is different every day and each one has its own special charms!
Bourg & Blaye on Thursdays is a nice wine region North of Bordeaux along the Gironde Estuary; two familial properties will open their doors to show you how they make the wine; a tasting of 2 wines at each chateau is on the program.
The Medoc on Tuesdays & Saturdays and Entre-deux-Mers on Fridays with the visit of 2 wineries and wine tasting. Your guide will remind you at this point that you first of all taste wine with your eyes and nose!  
Visit the Graves and Sauternais on Wednesdays to discover two beautiful wineries and taste all the colors of the wines, one in Graves and one in Sauternais.
Saint-Emilion, the name of a famous charming village and of delicious wines, on Monday & Sunday.You will start with the visit of the amazing underground church in the Saint-Emilion village followed by a guided tour in the small streets. Then the tour continues with a visit to one wine estate in Saint-Emilion appellation or surroundings where you will learn about the winemaking process by discovering the vat room, the cellars with all the barrels, etc.. A tasting of 2 wines will be offered.
 Departure at 1:30pm / return at 6:30pm
Monday Saint-Emilion
Tuesday Medoc
Wednesday Graves & Sauternais
Thursday Blaye & Bourg
Friday Entre deux Mers
Saturday Medoc
Sunday Saint Emilion
IMPORTANT: the tour is not available for children under 5 because of security and insurance reasons.
Organized by Office de Tourisme et des Congrès de Bordeaux Métropole
Good to know
What's included
Professional guide, transportation by coach, visit of 1 winery including wine tasting (limited by the French law), entrance to the underground church of Saint-Emilion or visit of 2 wineries and wine tasting in the other wine regions.
Number of participants
From 10 to 50
Good to know
Be at the meeting point 15 minutes before departure time
Please present one ticket per person; the tour is not available for children under 5.
Meeting point
12 Cours du 30 Juillet, Bordeaux, France
Office de Tourisme et des Congrès de Bordeaux Métropole
12 Cours du 30 Juillet, Bordeaux, France

Exact location
Tram B, C or D, Quinconces Station
They had this experience
A
Wine tour Entre Deux Mers
Interesting tour, very informative at both wine estates, excellent guide. Only disappointment was that neither estate produced white wines or if they did none were provided at tasting. To me these white wines are the very essence of Entrée Deux Mers.
Answer from Office de Tourisme et des Congrès de Bordeaux Métropole
Dear Mister Greener, We thank you for review and are sorry to hear that our tour didn't fit all your expectations. Entre-deux-Mers is, indeed, famous for its white wines, and our tour normally includes a tasting of this specific wine. Our partner produce a wide range of wines, including white ones, but chose to offer you other wines. We have contacted him to make sure that our future tours will include a white wine tasting. We are glad to hear that nevertheless you appreciated this tour and our guide. Best regards
Great quality for value. Despite the fact that our tour changed destination because of world heritage day, going to Médoc instead of Saint-émilion, we visited two wineries, where the guides provided a warm welcome on both french and english. We tasted two wines in each winery, both the first wine and the second wine of the house, and were offered great explanations about the wine making process. Great for those who require a short visit or a budget option.
Answer from Office de Tourisme et des Congrès de Bordeaux Métropole
Dear Juliana, We thank you for your nice review. We are sorry not to have been able to offer the original Saint Emilion tour on these particular heritage day, but are glad to see that you appreciated our Médoc tour. We hope to see you again in Bordeaux with a discovery of Saint-Emilion ! Best regards The Bordeaux Tourist Office team
Got locked in the underground church for 20 minutes, after our guide departed and closed up. She didn't count us in or out. Luckily for me another tour was inside the church, so I escaped with them 20 minutes later. No point in complaining. What is done is done. Bus PA system made understanding our guide difficult. Wine tasting was good. Not a highlight of my stay in Bordeaux
Answer from Mr. Office de Tourisme et des Congrès de Bordeaux Métropole x
Dear Sir Young, it is with regret that we read your comment. We have noticed your feedback and are really sorry to read that you got locked in the underground church. In a quality concern, we send your impressions to the service in charge of this tour, in order that it does not happen again. Anyway, we hope that you enjoyed your time in Bordeaux and looking forward to welcoming you again. Best regards, Tourist Office Team
We did not like being in a group of rude people who pushed in all the time. We did not like the first winery where we stood the entire time and in the hot sun. They were not very well organised. We are sorry we went
Answer from Office de Tourisme et des Congrès de Bordeaux Métropole
Dear Sir, We regret that the visit did not go as well as it usually does. Indeed during these visits, it seems essential to us to make a stop to observe the vines, the work ground of the winegrowers. Always concerned about improving the quality of our visits, we inform all members of the team of your feelings and hope to welcome you again in conditions that meet your expectations.