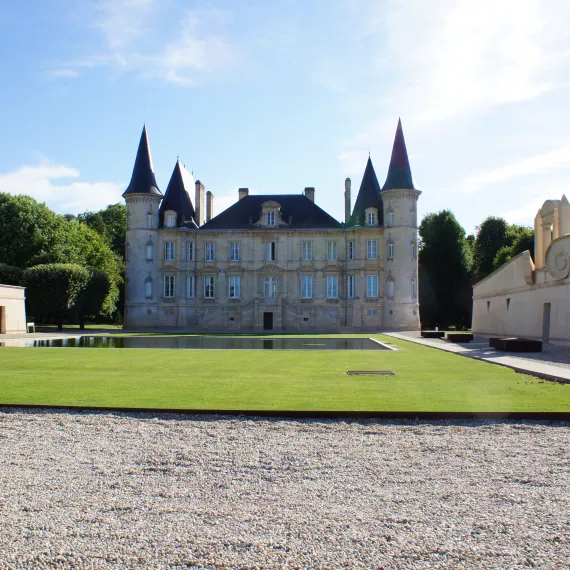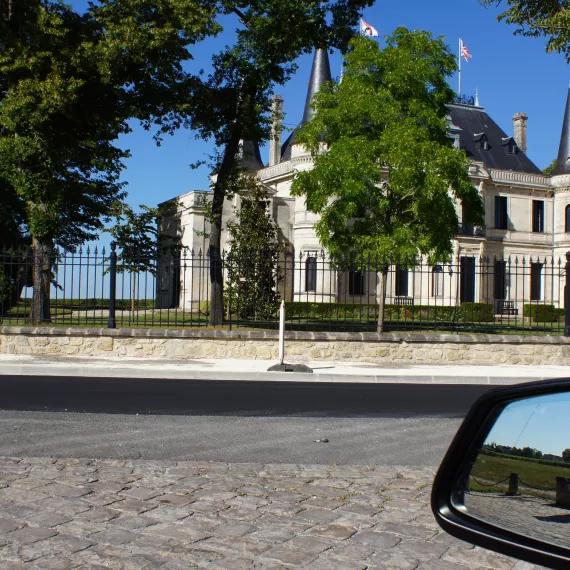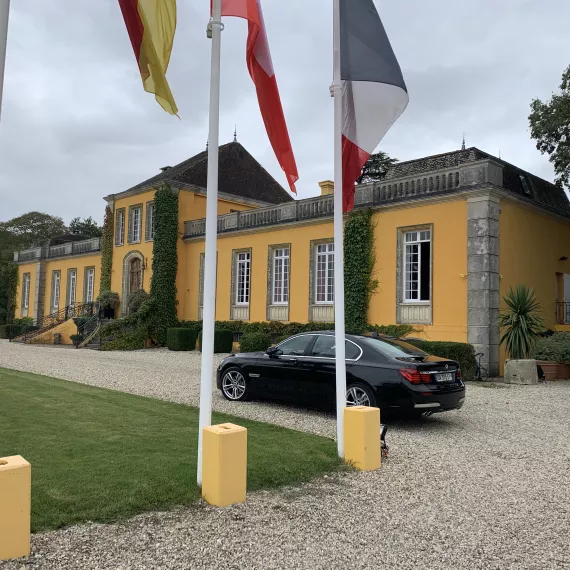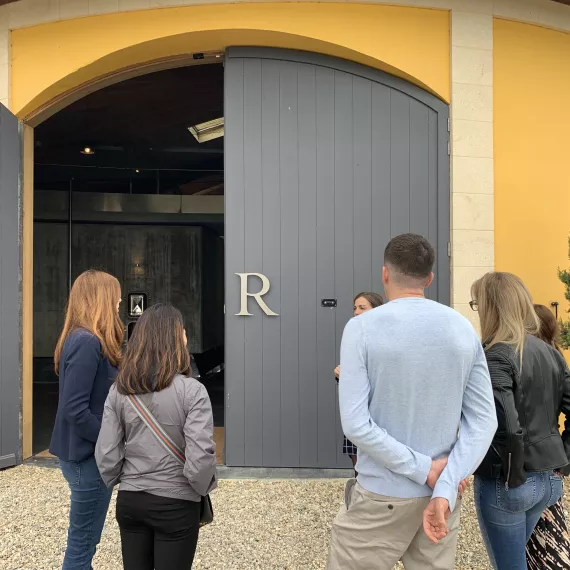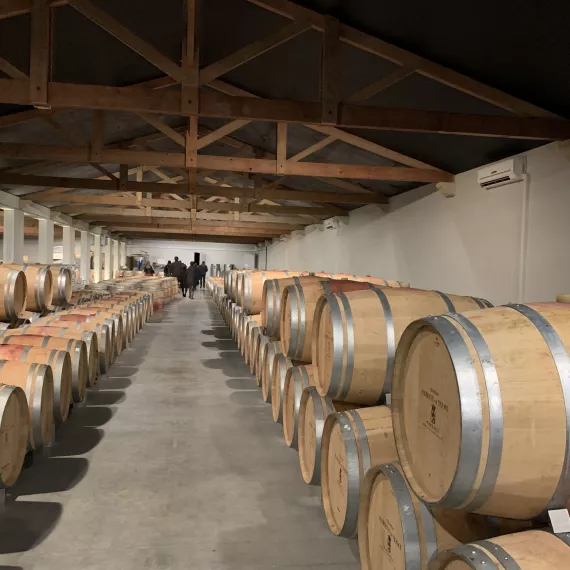 Excursion
Private day tour to discover Bordeaux vineyards
Discover the richness of the Bordeaux vineyard.
Come and marvel at these magnificent châteaux, these bucolic landscapes, and taste the pleasure of these subtle wines.
Enjoy the comfort of our top-of-the-range vehicles and the wine tourism knowledge of our drivers / guides.
Private Day tour with your personal chauffeur/guide
Duration of approximately 8 hours
Comfortable premium vehicle
Discover Médoc, Saint-Émilion or Sauternes
The diversity of the terroirs of Bordeaux wines and their high quality have made them famous throughout the world.
Come and discover how these wines, whose names make you dream, are produced. You will be charmed by the magnificent residences built over the centuries by successive owners. These owners were sometimes builders, sometimes guardians and protectors of this heritage, and of this French art of living. But all of them have passion as their only motivation.
We take care of the organization of your day. Throughout your wine tour, and depending on the region you have chosen, your driver-guide will give you a lot of information on the châteaux and the current classifications of these tasty beverages.
During the day, you will visit 3 castles of different styles, so that your pleasure remains with each new visit. You will be guided during each of your visits by the guides of the châteaux, and at the end of each visit you will taste 2 or 3 of the property's wines.
For your lunch, we will suggest one of the restaurants that we have selected for you. Each of them offering refined cuisine, made from fresh local produce, and always at reasonable prices.
Château Palmer, Château Lascombes, Château La Tour Carnet, Château Beychevelle, Château Pichon Baron, Château du Tertre, Château Pichon Longueville Comtesse de Lalande, Château Cantenac-Brown, Château Lafon-Rochet, Cos d'Estournel, Château Gruaud-Larose, Château Giscours, Château Dauzac, Château Marquis de Terme, Château Camensac, Château Léoville Poyferré, Château Marquis d'Alesme, Château Pédesclaux, Château Pavie, Château Angelus, Château Carbonnieux are some of the castles with which we work...
For your private wine tour, you will be driven aboard our premium vehicles, depending on availability (Bmw 5 or 7 Series, Audi A8 or Mercedes C, E or S Class) or van (Mercedes Classe V Luxury).
Let us know your visiting wishes, and we will do our best to make your wishes come true.
Good to know
What's included
Organization of your day and restaurant reservation
Round-trip private transportation in premium air-conditioned vehicle
Private driver-guide
Bottled mineral water
Pick-up and drop off at your place of residence in Bordeaux or outskirts
Not included
Tip or gratuity
Lunch, dinner, food and drink, unless otherwise indicated
Entrance fees to monuments, museums, chateaux or attractions
Good to know
Bacchus Tours disinfects its vehicles daily, and we scrupulously respect the barrier measures, in order to protect the health of our staff and our customers. We provide our passengers with disinfectant wipes for single use, as well as surgical masks if they do not have one.
No specific age limit, but children under 18 must be accompanied by an adult.
Children under the age of 18 cannot participate in the wine tasting.
Meeting point
Place de la Comédie, 33000 Bordeaux, France
Bacchus Tours
Place de la Comédie, 33000 Bordeaux, France

Exact location
They had this experience
W
Mediocre Experience for the price
We booked this tour to experience 3 St Emilion chateaus. One we requested and 2 that were recommended/booked by the tour operator. The one we picked (Pressac) we loved. One was just ok and the other was absolutely terrible. None of the tastings or lunch is included (which we knew) but wanted to add in case that was not clear. The good: Beautiful SUV--very clean and lovely to be transported in. The guide was very nice but also very new and had never been to any of the chateaus. Chateau Pressac (we requested this visit) was just as we had remembered--fabulous. Also, We really loved the lunch stop at the convent. The ok: Château Franc Mayne was ok to visit. Lots of caves which is common in the region. Didn't care for the wine. The bad: Château Rozier, which was described to us as a very beautiful property with beautiful wines. I completely disagree. The property is a warehouse without air conditioning. The guide spoke almost no English and knew very little about the wine. After realizing that the tour was going to be very difficult, we went to the tasting in a very odd location--the living room--complete with old, broken furniture and bad smells. The wine was terrible. Also served in wrong order (years). Tried and spit--something I never do. I still am in disbelief of this experience. So overall, considering the cost, I would not recommend this tour. Book with someone else that can provide good recommendations as that is part of what you are paying for and not just a car and driver.
Answer from Hugo Caquelot
Dear Wendy, Thank you for the time you spent to write this review, it is always interesting for us to know about the feelings of our guests. I totally agree with you concerning Château de Pressac, it is a fantastic chateau, and we take our guests very often there. The owner, who I personally know, is making wines that are getting better each year, and his Grand Cru Classé should raise in the Saint-Emilion classification that will be soon published. Concerning Château Franc-Mayne, we chose this chateau to show you the underground galleries. Even if these galleries are quite common in the region, it is not that easy to visit them, and only a very few chateaux are proposing such visits. It looks like you didn't appreciate their wine, this is not unbelievable not to love each of the Saint-Emilion wines. There are more than 850 of them, made by different persons, with different technics, from vines planted on very different plots, so you get different wines, and appreciate all of them the same would be quite difficult to believe. The last chateau was Château Rozier, and it has been a bad experience. Let me tell you it has been a bad experience for our guide too. It is not a Château we have the habit to work with, and it has been added to your program because you requested a "small" chateau, with very reasonable prices for their wines, which is the case. Served in good conditions, in the proper order the wines of this family are interesting and show a good complexity. But the chateau is not at all organized to receive visitors other than professionals, and we will not again take our guests to this chateau. Margaux our guide, was terribly sorry for this bad visit and presented you our excuses for this, right after the visit. Talking about Margaux, your guide for the day, she is not new in the job, and knows quite a lot about Saint-Emilion wines, but she was previously working in other chateaux and in the Bordeaux wine museum. And, with more than 850 chateaux around Saint-Emilion, you don't go that often to the same chateaux.