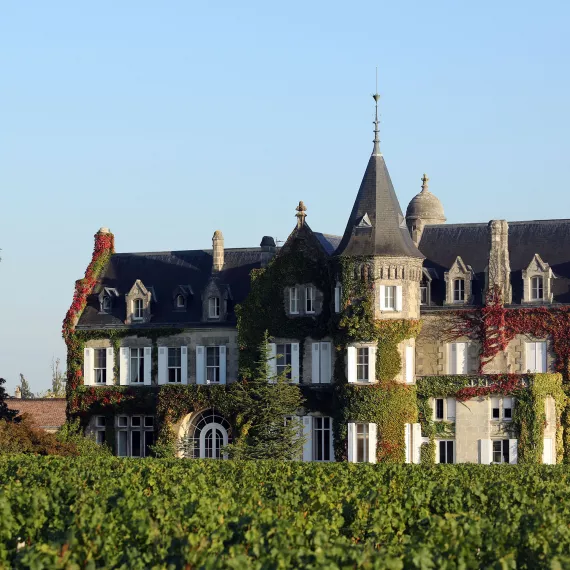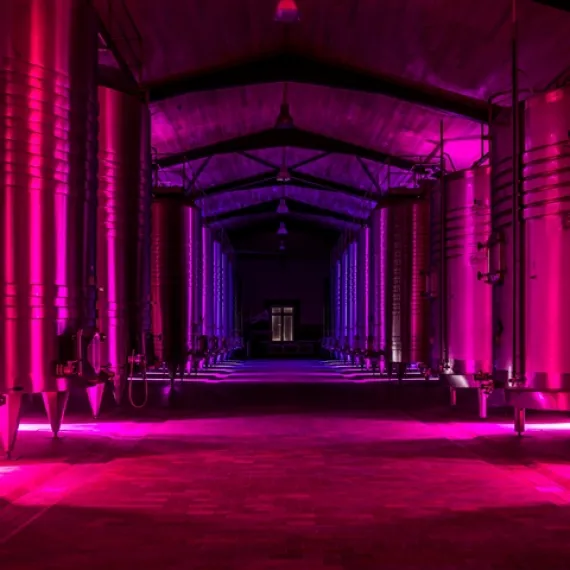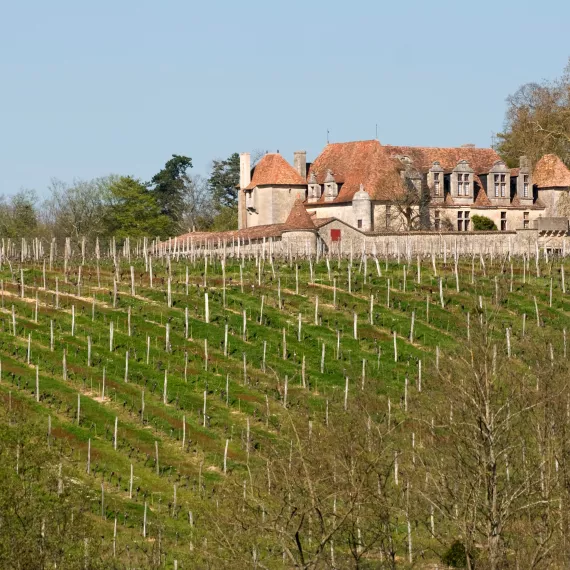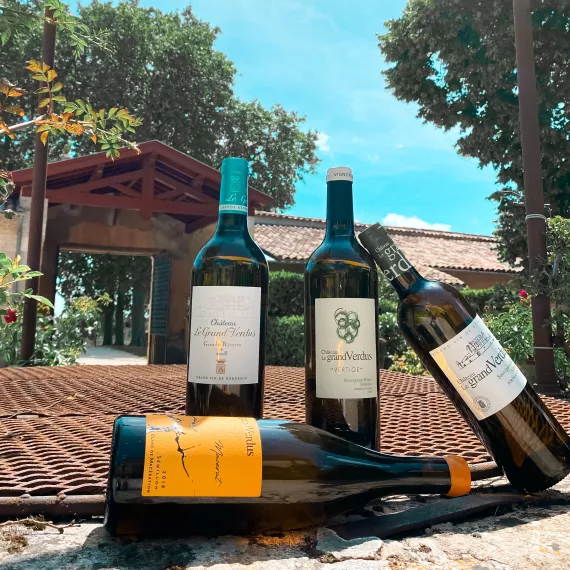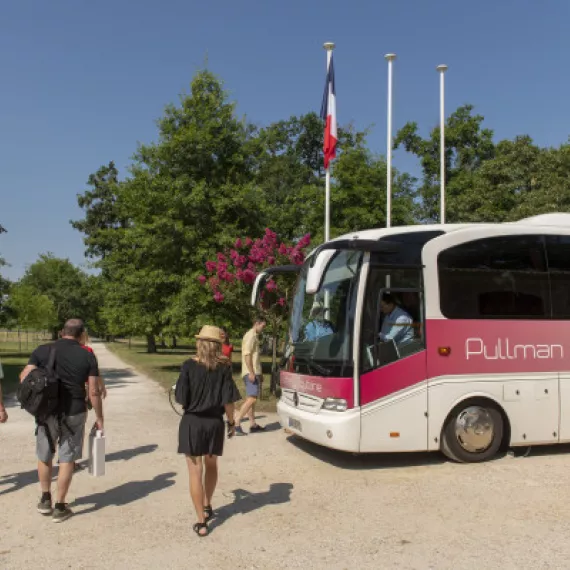 Excursion
[SAT] Best Of Tour, 3 wineries with lunch & wine tastings
From 145€ / pers
Everywhere in the Bordeaux vineyards you can find a wine estate who has been awarded by the international competition "Best Of Wine Tourism".  This special wine tour is dedicated to these wine estates and proposes to experience the "Best Of" Wine Tourism in Bordeaux!
Visit of 3 wineries around Bordeaux
Tour conducted by official guide with professional card, French & English
Transportation by coach from Bordeaux
Friendly lunch at the chateau, cold or warm, buffet or served at the table
Every Saturday this tour offers the great opportunity to visit 3 different Bordeaux wine appellations among Medoc, Sauternes, Pessac-Léognan, Bordeaux-Entre-Deux-Mers or Saint-Emilion. The itinerary varies every week but always includes three visits (with tour and tasting) and a lunch at the second estate! This is an ideal opportunity to see beautiful family-owned estates, meet their enthusiastic owners and sample different wines!
Program:
09:15am: departure by coach from the Bordeaux Tourist Office.
10:15am: visit and tasting at a wine estate. You will discover the steps of the wine making process and see the cellars with the barrels and the vats. At the end you will be offered the tasting of the property's wine. 
 11:45am: at the second stop the wine estate will welcome you for a visit of its cellar and organise the lunch which can be a buffet warm or cold or a sitting traditional French lunch.
 03:30pm: the last visit takes you to another kind of wine chateau, a familial one or a cru classé; this visit will show how different are the numerous wine chateaux around Bordeaux. 
 06:15pm: arrival in Bordeaux.
On 29. July and 23. September the tour wil go to Medoc (red wines).
Châteaux partners: Château du Payre, Château Le Grand Verdus, Château Réaut, Château Lestrille (Entre-deux-Mers), Château Latour Martillac, Château d'Eyran (Pessac-Léognan), Château La Tour Blanche (Sauternes), Chateau Montlabert, Château Champion, Château Fleur de Lisse, Château de Ferrand (Saint-Emilion), Château Lamothe-Bergeron, Château Lascombes, Château Marquis de Terme,  Château Paloumey (Médoc).
 Operator: Bordeaux Tourist Office in partnership with the Bordeaux Gironde Chamber of Commerce
Good to know
What's included
Guide, transportation, visits, tasting and lunch according to the program
Number of participants
From 13 to 25
Good to know
Please be at the meeting point 15 mn prior the departure time. Please book at least 72 hours in advance to make the organisation of the lunch much easier. The minimum of participants required is 13 people; in case this number is not reached we will propose another tour or a refund.
Please be at the meeting point 15 minutes before departure time
Minimum age: 18 ; young minors children babies are not allowed on this tour
Pets are not accepted.
Meeting point
12 Cours du 30 Juillet, Bordeaux, France
Office de Tourisme et des Congrès de Bordeaux Métropole
12 Cours du 30 Juillet, Bordeaux, France

Exact location
Tram B, C or D, Quinconces station
They had this experience
J
Outstanding Customer Service
The tour was wonderful, but the outstanding customer service made it truly remarkable. I went on this tour with two friends and our train was delayed, making us arrive about two hours late. Nevertheless, the tourism center was incredibly helpful in getting us the best value for the time we were there. Most other places would likely take our money and leave us empty handed. This tour was wonderful, and the staff is well prepared for the worst-case-scenario.
Answer from Monsieur Office de Tourisme et des Congrès de Bordeaux Métropole x
Thank you for sharing your gratitude. We will pass on your pleasant feedback to our team. Looking forward to welcoming you on a next visit. Cordially, The Bordeaux Métropole Tourist Office team
First of all, I would not recommend this tour to anyone. The booking process was easy enough but the "Chateaus" (I use this word loosely as they looked more like warehouses) were not what I expected. We did buy a few bottles of wine at the second winery, Chateau Reaut, but the first and the third were not worth the visit. I was expecting best of wine making, not best bio or best of whatever. We thought perhaps it was just us, but nobody on our tour bought wine at either the first or third "Chateaus". In fact, the third was so bad we noticed that most people in our group poured out their tastings after one sip rather than drink them. I rate this a two star experience only because of Chateau Reaut. The lunch was good, the wines were worth the time. We came to Bordeaux to experience good wines; your tour did not deliver this.
Answer from Monsieur Office de Tourisme et des Congrès de Bordeaux Métropole x
Dear Miss Trevino, It is with regret that we read your review. We have noticed your feedback about the visit and thank you for it. In a quality concern, we sent your impressions to the wine estate to improve the quality of this wine tour in the futur. Best regards, Tourist Office Team
This was a fantastic tour from the booking all the way through to the drop off return. Laurence was our tour guide and she was friendly, considerate and fun. We visited three chateaux - all different. The visits were not rushed we had a talk and tour at each and plenty of time to taste their wines. There was no hard sell at all. The lunch was more than we expected with three courses and wines to sample with each course in addition to the tasting. To cover three very different wines areas i Bordeaux there was quite a bit of travel on the bus but it was comfortable, a small group and the scenery was delightful. Highly recommend
We visited 3 wineries in the Medoc region on our 'Best Of' tour. The wineries featured beautiful gardens, diverse architecture and of course great wine. The representatives who managed our visit at each of the wineries were very professional and welcoming. The presentations on the history and operation of the wineries was very interesting and surprisingly diverse with insights to the various issues and challenges in managing the business. Our tour guide and the driver were intent on providing a memorable day and were very much appreciated by the participants. The only issue was a general issue in touring in France, that is a lack of catering for vegetarians. A lunch was included and was fine for non vegetarians, but a vegetarian salad was a challenge. Please ask at booking if there are dietary needs. Very much enjoyed the day and recommend this tour.