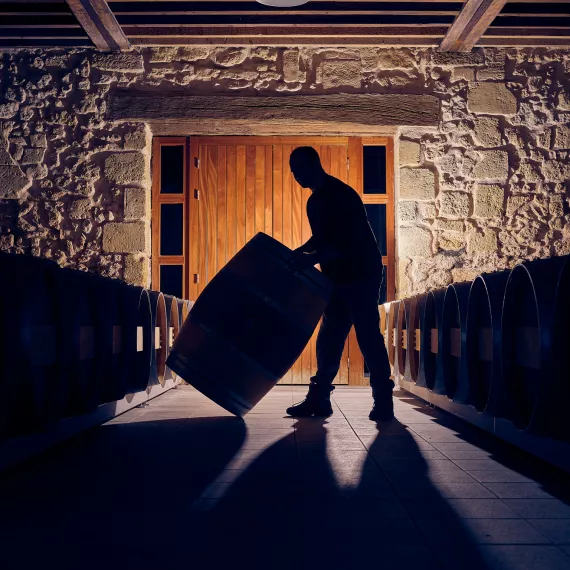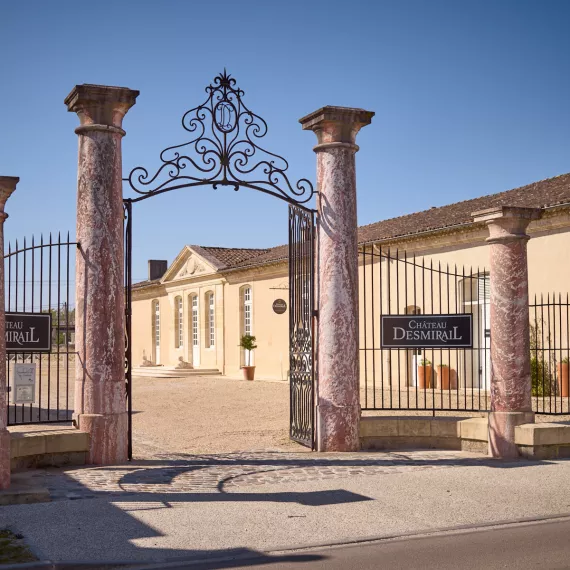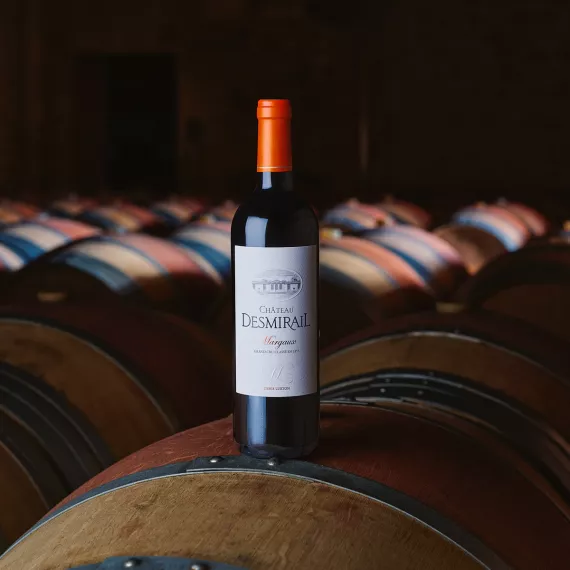 Guided tour
Tour and tasting at Château Desmirail
From 10€ / pers
3rd Grand Cru Classé of Margaux, Château Desmirail welcomes you after a presentation of the regional vineyard and the 1855 classification, for a visit to discover its history, its authentic Medoc vat room and its cellars, before ending with a tasting of 3 wines.
Vineyards & Discovery Label
Historical heritage: 19th century Medoc vat house
On the "Route des Châteaux" (D2), in Margaux appellation
Behind a majestic pink marble gate, embark on a journey through time and admire the charm of an elegant 18th century chartreuse and one of the last typical Médoc vat room from the late 19th century.
The visit begins with a presentation of the regional vineyards and the exceptional terroir of the Margaux appellation.
Then discover the long and beautiful history of this 3rd Grand Cru Classé in 1855, founded in 1741 by Jean-Baptiste Desmirail and owned currently by Denis Lurton.
In these authentic buildings, on the first floor, the visitor will be able to admire an exceptional framework and will no doubt be impressed by the aesthetics of a recent wooden vat room.
The visit will continue with the methods of vinification and ageing of the wine in barrels.
To finish this visit through the ages on a note of conviviality and sharing, we will finally offer you a tasting of three wines from the Château: our Margaux (Château Desmirail and Initial de Desmirail) and, depending on the season, our Haut-Médoc (Iris Pourpre de Desmirail) or our rosé de saignée (Rosé de Desmirail).
Good to know
What's included
Visit followed by a tasting of three wines
Number of participants
from 1 to 15 people
Good to know
Please arrive 5 minutes before the beginning of the visit and inform us of any delay
Meeting point
28, avenue de la Vème République 33460 Margaux-Cantenac
Château Desmirail
28, avenue de la Vème République 33460 Margaux-Cantenac

Exact location
Bus 705 (Margaux Cantenac - Cantenac Bourg)
They had this experience
The host was great and very kind, showed and explained every little detail about wines production. Very nice experience
Answer from Maxime Dejean
Dear Natasa, It was my pleasure to welcome you to Château Desmirail and make you discover our history and explain the winemaking process. You seemed very curious and interested in the visit, which made it really enjoyable for me too. Best regards
This seemed very good value. The team were extremely helpful and friendly, even taking my wife to find a cafe as she wasn't coming on the tour. The guide was well informed and welcomed questions. The tasting provided 3 generous glasses to try and was informative. I didn't try any other tours in the area, but as someone interested in wine, enjoyed thus one.
Answer from Maxime Dejean
Dear Colin, You seemed to be a great wine enjoyer, with a lot of knowledge, and it was great to have someone as curious during this visit. I am glad that you enjoyed the tour and the wines. Thank you for the very nice comment. Best regards
The full visit was very nice but I would remark the attention received as well as the kind willingness of our guide to answer every single doubt. The wines tasted were awesome!
Answer from Maxime Dejean
Dear Andres, It was our pleasure to welcome you to Château Desmirail. I am delighted that you enjoyed the visit. Thank you very much for your nice comment. Best regards
Maxime was wonderful and very knowledgeable. We had a lovely time with our family
Answer from Maxime Dejean
Hello, It was a pleasure to have you here at Château Desmirail. We are glad that you enjoyed the visit and our explanations. Best regards