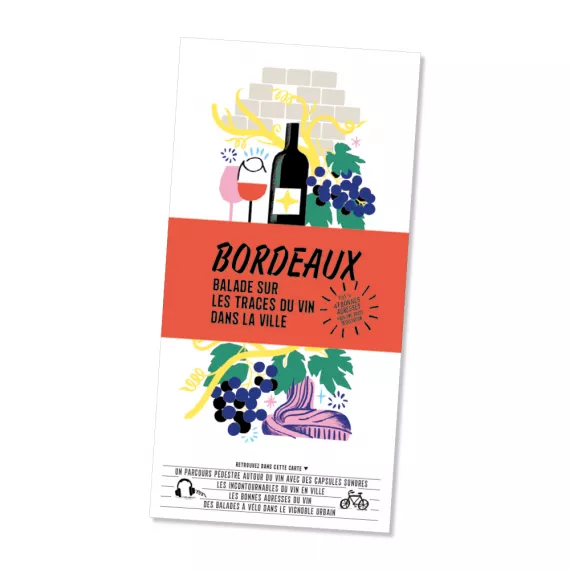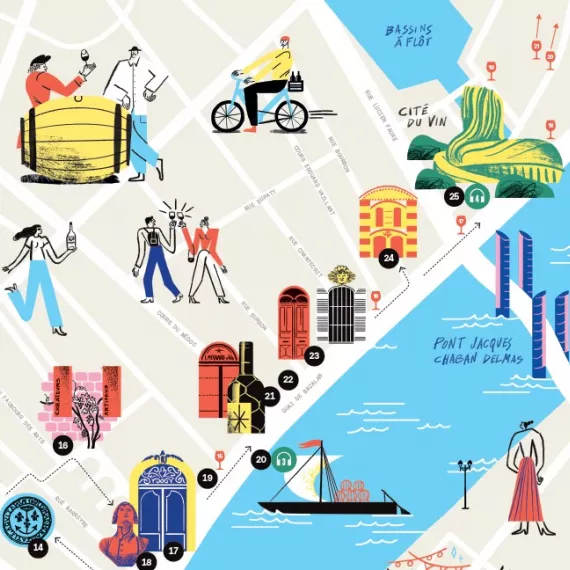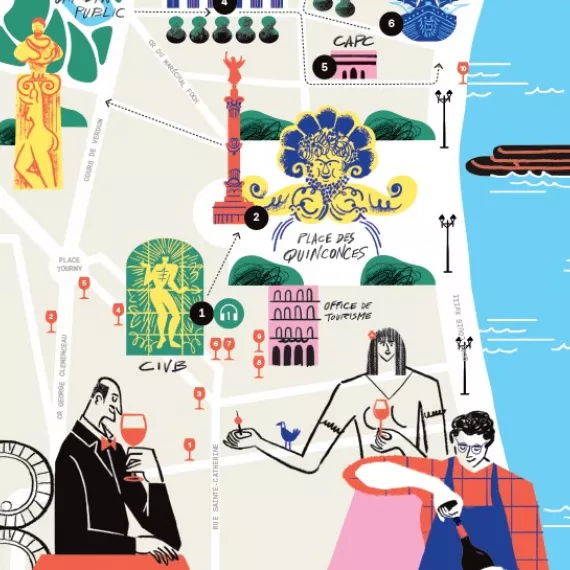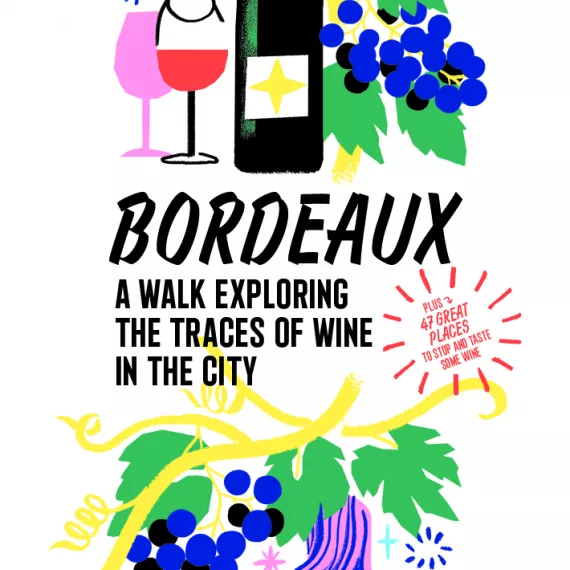 Experience
Bordeaux, a walk exploring the traces of wine in the city
From 3€ / pers
Why not set off on a hunt for traces of wine around Bordeaux?
With this map, go out and explore the city on a history, fun and flavour-filled two-hour walk (approximately).
A wine-based trail with audio capsules
The must-visit city-based wine sites
Where to buy / taste wines
Cycling routes through the urban vineyards
Sculpted details, cobbled alleyways, espaliered vines… each step of the journey reveals the city's strong links with wine, sometimes in unexpected ways.
Travel across the city from the Bordeaux Wine Council (CIVB) to the Cité du Vin, finding out along the way how wine production and the wine trade have shaped the city known as 'The Port of the Moon' for centuries. Add an immersive aspect to your journey with four audio capsules using a QR Code.
On the reverse side of the map, choose from almost twenty places which you can visit in your own time, all of which are accessible on foot or via public transport: monuments, museums, heritage sites or wineries… Each place listed has its own way of telling Bordeaux's love story with wine.
Finally, if you fancy, stop off for a tasting at one of the many addresses marked on your map. There are plenty of wine shops and wine bars ready to welcome you and share a little bit of modern wine history with you… in a glass!
The Tourist Office is at your disposal 7 days 7 to advise you, refer, offer tours and guided tours. Do not hesitate to contact us, it is with pleasure that we will discover the heritage and the vineyards of Bordeaux.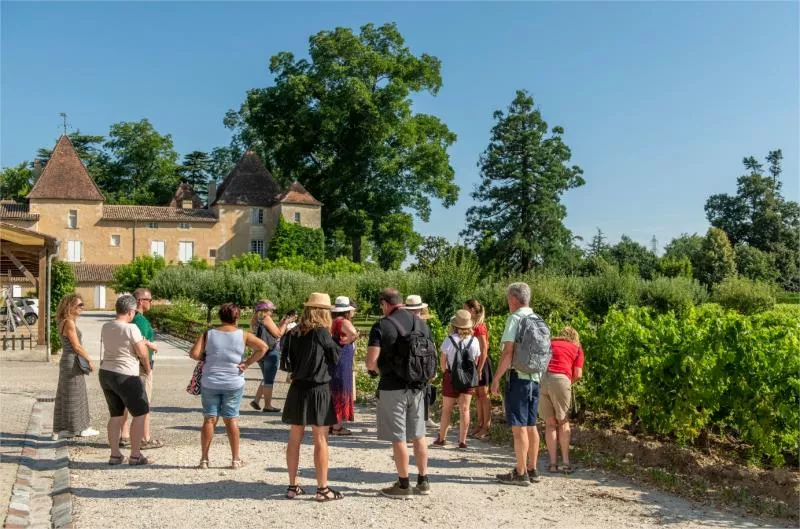 They had this experience with Bordeaux Tourism & Conventions
K
Great tour for first timers!
Excellent tour! Great introduction to the city with interesting insights. Highly recommend it!
We had this tour on the 10 of september 2022 in the morning. group was 40% french people, and 60% foreigners tourists. We did not know learned a lot of things as the guide spent most of the time speaking of his life, his opinion on Bordeaux cultural scene (in bad terms) and trying to make (bad) jokes with the attendees.. as a result we only saw 6 places nearby the Office du Tourisme. The guide was very vague in his explanations of each site, gaining time with silences for ex, despite having mentioned several times that he could speak several hours on the Rocaille style, the monuments aux Girondins or the Castle trompette. Actually, if he could have speak more than 2 minutes of each site, me and my wife would have been happy! I Not mentionning that some informations were falses following checks (G Washington did not nominate the 1st ambassador but T Jefferson for ex). I rate this experience 2* as we have had a minimum of information, most of the time following our questions, but otherwise I would have put 1*. Very disappointing as during the afternoon at 4 PM we have had an excellent tour at the "monuments aux Girondins" with another guide, very competent, impactfull and very knowledgable.
Answer from Monsieur Office de Tourisme et des Congrès de Bordeaux Métropole x
Dear Sir, We thank you for your message and we are sorry for this misunderstanding. We transfer your message to the guided tour service so we can improve our tours in the future. We hope that you enjoyed your time in Bordeaux anyway and looking forward to welcome you again. Best regards, Tourist Office Team
Very informative, a good pace, not a long walk overall. Guide was great and did in English for non French speakers. Would highly recommend and great value gir low price.
R
Informative guide but difficult to hear all that she was saying
The guide was pleasant and informative during the walking tour. However it was often difficult to hear what she was saying due to the lots of background noise from traffic on the roads - I would suggest that in future that headsets are provided to customers. Also the tour was done in both English and French - however the current switching between languages really interrupted the flow of the tour. I would suggest that the English and French tours are run separately in future
Knowledgable and engaging guide, a great way of learning more about this lovely city. Would highly recommended
The tour was good, showing you lots of different interesting places around the centre of Bordeaux. The tour guide spoke very good English and was able to give lots of information about each location. Because there were both French and English speakers on the tour, you do spend longer than normal standing around whilst the information is given in both languages. It was a shame that when a question was asked in French that it was then answered in French and not translated into English.
Answer from Monsieur Office de Tourisme et des Congrès de Bordeaux Métropole x
Dear Anna, we thank you for your message. In order to improve the quality of our next visits in 2 languages, we forward your comments to our guided tours service . We hope that you enjoyed your time in Bordeaux and hope to welcome you again. The Tourist Office Team
View map
Good to know
Meeting point
12 Cours du 30 Juillet, Bordeaux, France
12 Cours du 30 Juillet, Bordeaux, France

Exact location